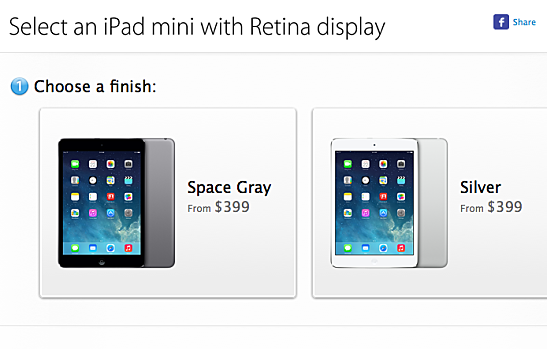 Apple has officially opened its online store for consumer wanting to purchase the new iPad mini retina tablet. The release of the tablet came as a bit of surprise as Apple never gave the iPad mini with retina display a release date back at the iPad event in October. Apple's new iPad mini is going on sale today in Australia, China, Hong Kong, Japan, New Zealand, Singapore, and the US.
The new iPad mini retina model remains mostly unchanged in terms of appearance compared to last years original iPad mini. The 7.9-inch model will add a higher resolution display which offers a 2,048 by 1,536 pixel resolution with 326ppi (pixels per inch). In terms of power and performance, Apple has given the retina model the same processing power as both the iPhone 5S and iPad Air.
When it comes to pricing the iPad mini retina model has been given a 21% price increase compared to last years iPad mini. The price of last years 16GB iPad Mini started at $329 and jumped to $399 for the same configuration with a Retina screen. At $399 the iPad mini retina represents one of the most expensive 8-inch tablet models on the market.
For those looking to snag up a iPad mini with retina display, I would HIGHLY recommend putting your order in now. The tablet is said to be in very short supply at launch at will not see significant supply until early in 2014. With limited supply, and cheaper competing 7-inch tablets like the Google Nexus 7 and Kindle Fire HDX, Apple will have some fierce competition heading into this holiday season.
-image courtesy of Apple
[cf]skyword_tracking_tag[/cf]
Comments
comments