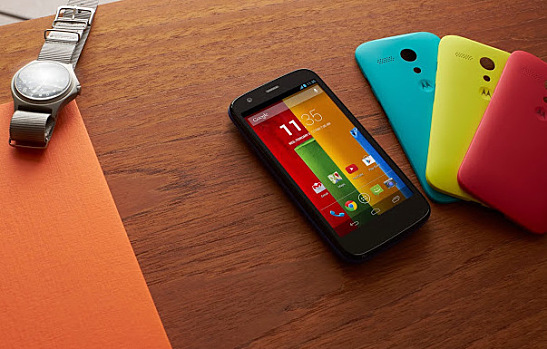 Motorola has released the baby brother of the not so successful Moto X today – the Moto G Android powered smartphone. Unlike its more expensive counterpart, the new Moto G will cost only $179, with no 2-year contract.
When it comes to specs and performance, the "G" will feature a 4.5-inch display with a 720p resolution, a Snapdragon 400 1.2 GHz quad-core processor, 8GB of storage, and a 5-megapixel camera. The device will come with Android 4.3 Jelly Bean, however Motorola says the device will be upgraded to Android 4.4 KitKat by January of 2014.
Motorola has elected to bypass Moto maker customization for the new model but the back plate is removable, which allows customers to swap it for different colors and styles. Motorola is offering back plate color options of blue, teal, red, yellow, purple, white, and black. Although the back cover is removable, the battery is fixed. This means no swapping out batteries when power is low.
The 8GB Moto G will be available off contract (unlocked) via Motorola.com for $179, while the 16GB version will be $199. I think this is a very good price point for a mid-range Android device, and Motorola should see success in price-sensitive markets. Personally I feel Motorola should have used this strategy when pricing the Moto X. The initial unsubsidized price tag of $549 on the Moto X is just way to high, considering you can now grab a top of the line Nexus 5 for only $349.
The Moto G will launch this week in Brazil and in certain parts of Europe. The device will then launch in Latin America, Europe, Asia and Canada. The smartphone should then arrive in the US, India, and the Middle East by early-to-mid January of 2014.
-image courtesy of Motorola
[cf]skyword_tracking_tag[/cf]
Comments
comments