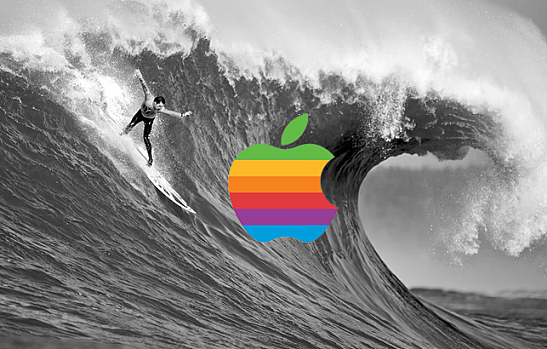 OS X 10.9 Mavericks is the tenth version of Apple's laptop and desktop operating system. Mavericks represents the first operating system from Apple not named after a large cat (Snow Leopard, Panther, Mountain Lion). About half way through my OS X 10.9 Mavericks review, I finally realized, through some Googling, Mavericks is actually named after a popular big-wave surf spot in California.
When OS X10.9 Mavericks was first shown off back at WWDC in July, Apple's head of OS X and iOS development, Craig Federighi, said the new OS would bring over 200 new features when released. With the look and feel of the operating system staying relatively untouched, the OS brings more of a refinement to the table that a complete overhaul. With just way too many features to breakdown at once, I thought I would share my list of the top five Maverick features instead of a full OS X 10.9 Mavericks Review.
Top 5 Features of Mavericks OS X 10.9:
1. iCloud Keychain – Apple has created the iCloud Keychain as a built-in feature for in Safari, which can remember site logins, passwords, and credit card details (CVV codes not included) across all iOS devices. Apple has also added extra verification to protect iCloud Keychain data, so another user would need more than your iCloud sign-in information to enable it.
2. iBooks – The popular feature found on iOS devices is now integrated right into OS X 10.9. Just like the iOS version, the iBooks app includes both the user's collection of books and PDFs along with access to the full iBookstore. Touchscreen features from the iPad and iPhone are down through the trackpad. You can swipe to turn pages, pinch to zoom into pictures, and scroll smoothly from page to page. If your familiar with iBooks for iOS, the OS X 10.9 version is just a really great extension fro your Mac now.
3. Apple Maps – Love it or hate it, the Apple Maps application can now be found on your Mac. With deep iOS integration, you can send routes from OS X to an iOS device. All the routes and directions sent to your iPhone/iPad will appear directly on your lock screen. Just unlock your device and navigate with ease from your mobile device. Apple has also included Maps integration with the calendar app to bring directions to your appointments. Calendar also calculates the drive time to such destinations based on your current location and historic traffic patterns.
4. Automatic App Updates – I have always hated getting reminders and pop-ups that I need to update my apps. I hate it on Android, iOS and OS X. Now you can have your Mac purchases automatically download on all your Macs rather than just the one you are buying it on. This feature is yet another little trick adopted by iOS. Go to System Preferences > App store and check the relevant box.
5. Multiple Displays – For all those users who like a second display or use Air Play to Apple TV, Mavericks is made for you. You now have the option to mirror the main display or to extend the desktop across the additional space. Mavericks treat each display as its own unique peripheral. Every display attached now receives its own Menu Bar, while the dock can be moved by simply moving the cursor to the proper location. This new feature puts Apple back on par in comparison to Windows 8 display tricks. The new multi-display feature supports HDMI, Thunderbolt and HDTV monitors.
Tech Specs Required For Mavericks Installation:
Note – You must have at least 2 GB of RAM, 8 GB of available disk space and Mac OS X Snow Leopard 10.6.8 or higher in order to install OS X Mavericks.
•    iMac (Mid-2007 or later)
•    MacBook (13-inch Aluminum, Late 2008), (13-inch, Early 2009 or later)
•    MacBook Pro (13-inch, Mid-2009 or later), (15-inch, Mid/Late 2007 or later), (17-inch, Late 2007 or later)
•    MacBook Air (Late 2008 or later)
•    Mac Mini (Early 2009 or later)
•    Mac Pro (Early 2008 or later)
•    Xserve (Early 2009)
Maverick Pricing and Availability:
For the great price of FREE you can have Mavericks up and running on your compatible Apple laptop or desktop. Apple's past releases sold for $20-$29, which is still a lot less compared to Microsoft systems that start at over $100. Mavericks first became available on October 22 via the App store on your current Apple laptop or Desktop.
[cf]skyword_tracking_tag[/cf]
Comments
comments