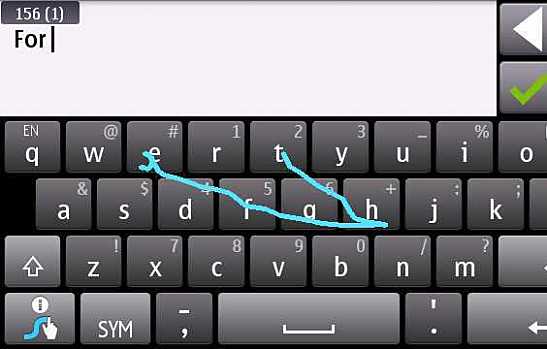 One of the main selling points of Android devices is their ability to customize the user experience; Android's keyboards are no exception. The keyboards that come pre-installed on these devices vary greatly in quality, depending on the manufacturer. Some are quite good, but some are far from being the best Android keyboard. Fortunately, there are excellent third-party options available on Google Play, the electronic marketplace for Android apps and media. 
Swype
Swype, the original trace-type keyboard, allows you to maintain contact with the screen continuously, moving from letter to letter without ever lifting your finger. The software is designed to skip letters you happen to pass over on the way. For pure trace typing, the Swype keyboard is often considered to be faster and more accurate than those of competitors such as Swiftkey. The trace feature is so popular that it has been incorporated into several manufacturers' stock keyboards.
SwiftKey
SwiftKey boasts over 200,000 five-star reviews since its 2010 introduction. It's easy to see why: Swiftkey's standout feature is its text prediction capability. The program learns and suggests not only what individual words you commonly use, but also word combinations and entire phrases, while accurately correcting misspellings. The prediction software has now been incorporated into some new Samsung devices, including the Galaxy S4.
SwiftKey also offers trace typing, and its predictive feature is designed to work specifically with trace movements. While not quite as fast as Swype, the overall experience is intuitive, leading many to dub SwiftKey the best Android keyboard.
Hacker's Keyboard
For ultimate customizability, the Hacker's Keyboard offers the most options. While lacking the speed-tracing of Swype and the powerful prediction of SwiftKey, the Hacker's Keyboard lets you arrange the keyboard into different shapes and orientations. It can even be set to precisely resemble a traditional Windows keyboard, with arrow keys, an "Alt" button, and punctuation arranged in a familiar pattern. For plain old tap typing, the Hacker's Keyboard dominates.
These candidates for the best Android keyboard crown are just a few of the many fantastic typing apps available on Google Play. With many free keyboards and free trials of some of the popular keyboards available, you can easily try out a couple of different options to see what you like best. What features will you look for in a third-party keyboard?
Image courtesy of Flickr
[cf]skyword_tracking_tag[/cf]
Comments
comments