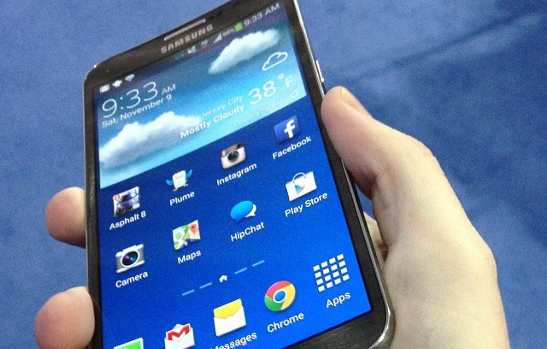 A Samsung three-sided Galaxy phone may be in the works, Bloomberg reports. Though plans have not yet been confirmed by the company, two anonymous sources close to the project provided information on the possible wraparound screen, which have three independent screens that could be used for different tasks.
Verge recently uncovered a patent filed by Samsung in May that illustrates how the different sides could be used, such as a notification bar, a battery charge meter, and a visual clipboard that would allow users to drag and drop items off the main screen. Gizmodo provides an easy-to-read description and select diagrams. 
The display will utilize an upgraded version of flexible OLED display Youm, which is being used in the new, curved Galaxy Round handsets that were confirmed last month. The patented Samsung technology was shown off at the Consumer Electronics Show in Las Vegas earlier this year, where the company demonstrated some curved OLED screens for members of the press. They are designed to bring out a deeper contrast ratio and better color on the screens, according to CNET. 
It is unclear whether this style will be implemented within the Galaxy S and Galaxy Note series, or if it could be the start of a new line of smartphones. Its design would also allow for users and developers to explore new ways to use the devices, especially when viewing the phone at an extreme angle or while lying down in bed.
Samsung has plans for a number of new devices, but will face a lot of competition. Manufacturers' move toward flexible displays may lead to market saturation. Samsung's three-sided display and other experiments could be exactly what the company needs to become a smartphone leader. There hasn't been a commercial move towards this kind of technology, so whether or not customers even want a curved screen is unknown. Van Baker, director of research at Gartner Inc., told Bloomberg that Samsung could be the "test case," as they are fond of "throwing whatever hardware they can out into the market, just to see if anybody will bite."
Do you think the Samsung three-sided display will help the manufacturer to beat Apple in the smartphone race? Since everything is so competitive right now (and at a standstill in terms of innovation), are curved and flexible screens a step in the right direction, or is it all just superfluous?
Photo courtesy of Flickr
[cf]skyword_tracking_tag[/cf]
Comments
comments