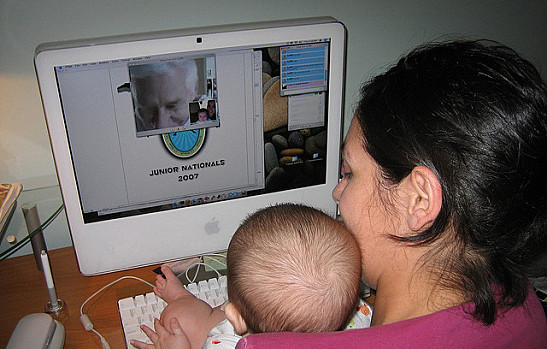 Many of us think of the holidays as a time for families to reconnect, but the realities of work and life schedules can get between you and loved ones on these special days. A popular solution to this problem is video conferencing on programs like Skype. You may not be able to hug your family members over a video-conferencing application, but you'll get as close to them as the virtual world allows—and you can do it for free no matter where they live.
A Virtual Family Reunion 
Once you have your video-conferencing software downloaded and installed on your home computer or mobile device, and are connected to the Internet, the process is simple. Programs like Skype operate using Voice over Internet Protocol (VoIP) technology. With Skype, you can search for loved ones by name, e-mail, or their user ID. Skype allows users to post profile photos so you can also see their picture, should your loved one have a popular name. Click to connect with them.
Once you have connected with your family member on Skype, starting a video conference is simple. Click on their contact icon and you'll have the choice between making a regular VoIP phone call (without video) or video conferencing, which allows you to make the encounter more personal.
Video Conferencing on Desktop, Smartphone, or Tablet 
When you are streaming video, remember: bandwidth matters. The strength of the Internet connection your device accesses will determine the quality of the video call. That said, you can use your tablet or smartphone as well as larger desktop computers and laptops to hold video conferences.
Apple's iOS operating system can access programs like Skype, FaceTime, and other video-conferencing apps with the same success as Android and Windows phones or PCs. Other video-conferencing apps include ooVoo and Tango. However, these programs don't have the full range of VoIP capabilities as Skype.
Advantages of Skype 
For many years, Skype was the only way for users to connect for free with loved ones overseas. It remains the most popular way to connect with anyone who has an Internet connection to interact via video, device-to-device calling, and instant messaging services. In fact, Skype goes beyond the reach of most platforms, in that it allows you call landlines at reasonable rates. If you want to connect with loved ones but have to call an overseas landline, check Skype's rates before you buy a phone card or make a pricey call using your smartphone.
Tips for a Perfect Video Connection 
If you set a date and time to connect with family members, you'll want to make sure to prepare for the call beforehand. 
Check bandwidth. Video makes a big difference, so check your Internet connection before the scheduled chat. If you are having trouble watching video on your device, you'll probably have the same issues with video conferencing. Find a location with superior bandwidth before connecting.
Have battery power. Whether you are at home or somewhere else, you should reserve adequate battery power for the chat. Video conferencing takes more battery life than e-mail and other basic functions, so start with battery power to burn.
Help family with the technology. Once you have downloaded and set up your program, make sure you see your family members online so you can simply connect at the appointed time. There's no point in saving it until the last possible moment and missing your chance.
Connecting with family via video conferencing is a great way to make the most of a long-distance situation. Programs like Skype are easy to set up and even easier to use. Who will you connect with first?
Image courtesy of Flickr
[cf]skyword_tracking_tag[/cf]
Comments
comments