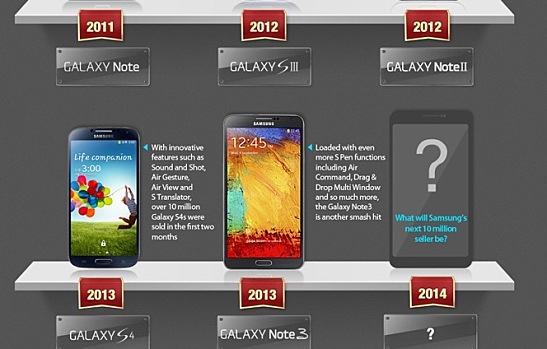 Samsung has revealed that shipments of the Galaxy Note 3 have surpassed 10 million total units after being released just over two months ago. The original Note from Samsung is considered the pioneer of the "phablet" industry after it launched over two years ago with success across Asia and Europe.
The Note 3 from Samsung represents their most successful launch of the phablet series since it first took the world by storm over two years ago. So how does the Note 3 faire compared to the other Note devices?? Last year's Galaxy Note 2 took four months to reach this milestone and the first gen Galaxy Note took about nine months to hit the 10 million units shipped mark.
This year's Galaxy Note 3 is not only more powerful, but does bring more of an executive look with a leather back and streamlined design. A brilliant 5.7-inch screen replaced the 5.5-inch screen found on the older model. A majority of the upgrades come under the hood on the Note 3 with a 13-megapixel camera, quad-core Snapdragon 800 processor, and 3GB of RAM.
Five years back, many thought big screens and styli would never to return to the smartphone market. Samsung has proved the industry wrong with the Note lineup. The device is now available in over 50 countries, and has become a top seller in most Asian countries. Big phablet type phones in general have seen great success across Asia and Southeast Asia. This type of success could indeed force Apple to produce a 5-inch plus iPhone come next year.
Does Apple need a phablet to bring down the Note from Samsung? Leave your comments below.
image – Samsung Blog
[cf]skyword_tracking_tag[/cf]
Comments
comments