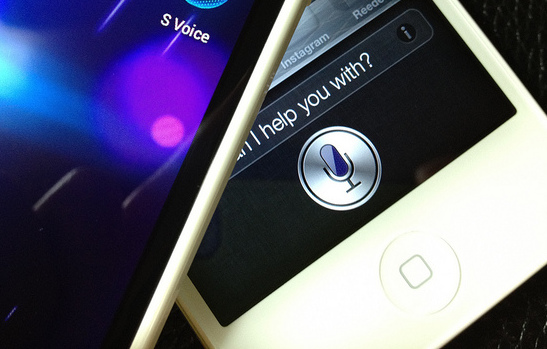 Apple's Siri voice-recognition service has improved in iOS 7, MacRumors reports, although it still needs some work to compete with Android's Google Now, which has made a huge jump in effectiveness from last year and is now essentially tied with its competitor in the battle for the forefront of the voice-recognition technology market.
Piper Jaffray analyst Gene Munster studied Google Now and Siri's accuracy to understand users and present relevant results. Munster gave both Apple and Google Now's software C+ grades after asking each 800 questions, and compared the results with last year's measurements.
Siri's ability to answer queries correctly in a noisy, uncontrolled environment was its main improvement, with a jump from 84 to 94 percent accuracy. This helped to bump the average Siri accuracy score to 79 percent. Apple's software also showed improvements in its overall ability to answer a question, which increased in accuracy from 87 to 94 percent from iOS 6 to iOS 7. 
However, Google Now's improvements from 2012 were more significant. Munster stated in a note to investors that: "Google Now has improved significantly over last year, refining both its ability to comprehend questions as well as give a correct response," according to USA Today. Google enjoyed small leads in areas such as commerce, navigation, and information gathering. Apple's previous voice-recognition software dominance could be in jeopardy, although it still leads in operating-system-related queries.
Apple has been emphasizing Bing, Wikipedia, and other services in searches instead of Google. Munster's report showed that only 4 percent of Siri's answers relied on Google, compared to 14 percent in August and 27 percent last year. 
In other areas, the iPhone manufacturer has been lacking in expanding technology. The most recent generation of iPhones offered very few new features for users, while Android is constantly adding options. Google phones have been giving consumers more new technologies overall, with the most recent Nexus 5 garnering rave reviews from critics and users. Granted, Google Now still needs a lot of work to get it above just an average grade, but the improvements from last year give it a boost above Siri.
Do you think Siri's accuracy can improve, or has Apple hit a plateau in terms of their software? Do these findings change your opinion in the Apple vs. Google race for market dominance? What have your experiences been with Google Now or Siri? Do you find it to be accurate? Sound off in the comments below.
Image courtesy of Flickr
[cf]skyword_tracking_tag[/cf]
Comments
comments