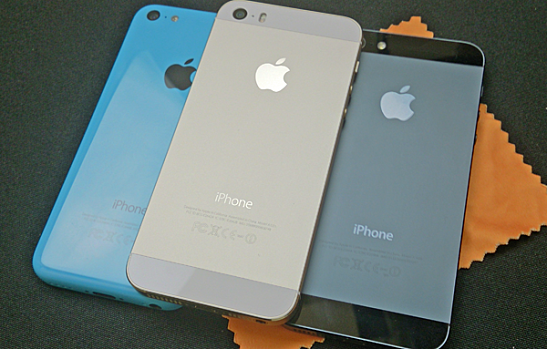 Tech news blog CNET has recently detailed the latest smartphone sales numbers from analyst group Canaccord Genuity. The numbers show that Apple's iPhone 5S is indeed the sales leader across all major US carriers. Samsung's Galaxy S4 and the iPhone 5C completed the top 3 phones sold during the quarter.
According to Canaccord Genuity analyst, Michael Walkley, iPhone sales may see a big surge heading into next year. The analyst predicts iPhone sales to hit 175 million units in fiscal 2014 and 193 million units in fiscal 2015. These latest estimates are an upgrade from the previous predictions of 171 million for fiscal 2014 and 186 million for fiscal 2015.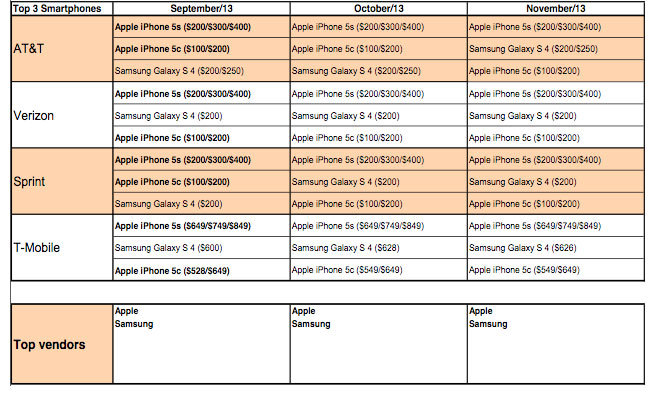 (image courtesy of Canaccord)
The reason for the increase is due to several recent events in the space. The imminent deal with China Mobile is said to be one of the key factors for the increase in projected sales units. China Mobile is the world's largest carrier and has been a target for Apple for a long time. The other reason for the projected increase in iPhone sales is the dominance it has had outside the US. Walkley stated that the iPhone 5S is, "by far the top selling smartphone…at most channels where the smartphone launched globally."
With the iPhone sales projected to increase in 2015, this projection does not include a totally redesigned iPhone 6 that could launch as early as September of 2014. Apple typically changes the body style of the iPhone every two years, so the 2014 model could bring us a bigger screen and one new killer feature (Retina Display, Siri, Touch ID). No matter what Apple dishes out in 2014, I expect iPhone sales to continue to soar well into 2014 and beyond.
via: CNET
[cf]skyword_tracking_tag[/cf]
Comments
comments