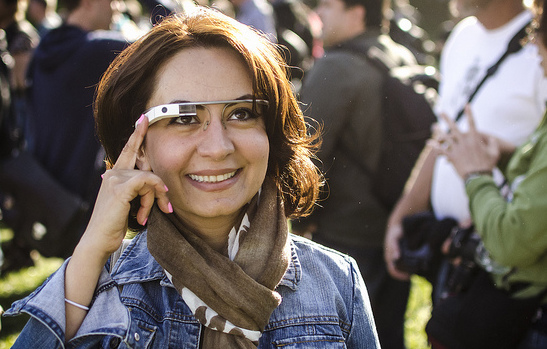 Google has just released its latest update for Google Glass, dubbed XE12, which includes a host of features that Glass Explorers have been asking for. The XE12 update includes the long-awaited Wink feature, as detailed by Android Guys, which allows wearers to snap a photo with just a wink. The early code for this feature was leaked many months ago, leaving plenty of time for Google to work out the kinks to ensure that wearers will only snap photos on purpose.
Google is working to make the Wink feature an integrated part of the Google Glass experience. "You wink at a pair of shoes in a shop window and your size is shipped to your door. You wink at a cookbook recipe and the instructions appear right in front of you—hands-free, no mess, no fuss. Pretty cool, right?" the company proposed on Google+. Google did not provide a timeline for when these additional Wink features will be available.
The latest release includes a new lock feature, which disables the device until the wearer enters their Glass handshake, a feature that was much desired within the Glass Explorers community. Glass is also now fully compatible with Hangouts, allowing users to send text and picture messages without having to rely on other social media platforms.
The update improves the integration between the device and YouTube, allowing users to quickly send their recorded videos to the site. Users can either tap the video and swipe it to the YouTube share card, or use voice activation to share to the website. There are also improvements to the Play Music feature, giving subscribers the option to switch between listening to their playlists and the radio, create a new station based on their listening history, or use their voice to play specific songs.
Meanwhile, Google released the iOS version of the MyGlass application today. The company had jumped the gun a little bit and released the app early on December 17 before pulling it shortly after. According to Google, the company needs people to have completed the XE12 before the app will work, so it delayed the official release. App users will be able to manage their device from their iPhone, as long as it is running iOS 7, and use navigation features on their Glass.
Will this update make you more likely to try out Google Glass when it gets fully released? 
Image courtesy of Flickr
[cf]skyword_tracking_tag[/cf]
Comments
comments