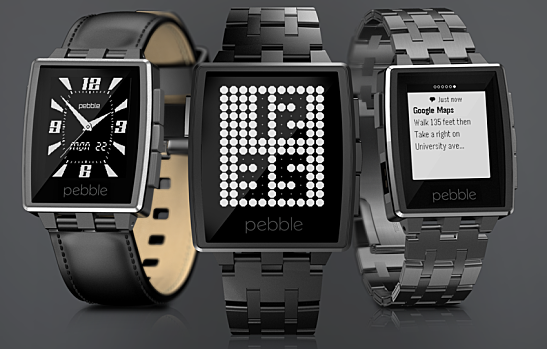 The smartwatch maker Pebble announced an all new model at the Consumer Electronic show in Las Vegas today. The new Pebble Steel smartwatch will sport a premium metal look with a Gorilla Glass scratch resistant glass face, and cost $250.
Same great features, stunning new design
According to Pebble, the company has sold about 300,000 units of last years model which sold for $149. The Kickstarter project which generated over $10 million last year, has given other smartwatch makers like Sony and Samsung a good run for the money. The new upgraded "Steel" model features a more refined look, which should attract to watch lovers and not just tech geeks. Pebble has packed the Steel with many of same features found on last years model like 5-7 hours of battery life, E Ink screen, push button controls and a water-resistant case.
(image courtesy of Pebble)
New Apps and Features
Also arriving with the new smartwatch is a new dedicated App Store. The apps will have support for both Android and iOS, and will feature apps like iYelp, Foursquare, GoPro, Pandora, ESPN and Mercedes-Benz. The watch will also run on firmware 2.0 in order to support the new app store and bring enhanced features to the device. Finally Pebble have also added an RGB LED to the front of the Steel watch, which can display the charging status of the device.
Pricing, Options and Availability

The new Pebble Steel is expected to start shipping on January 28th of this year, and can be pre-order today directly through Pebble for $249. The Pebble Steel will come in two versions, including a Brushed Stainless and Black Matte, each model also ship with two bands including a matching metal band and a black leather strap. Pebble has made the new Steel martwatch both sleeker and smaller, while keeping the display the same size.
Pebble Steel Design and Style
The watch now looks and feels more like a stainless steel wrist watch you would buy from a brand like Seiko or Citizen, rather than a tech accessory. The brushed stainless model brings a more refined look to the table, while the Black Matte version offers a popular PVD like style and sleekness. Pebble has also included some nice genuine leather straps that bring more of an elegant look to the watch. The straps can be interchanged with a special tool that is included in the box. For those looking to use you own watch strap or band, you will be out of luck. The connectors are indeed proprietary and will not support standard watch bands. I expect Pebble to introduce a full line of different straps and bands in a wide variety of colors and materials in the coming months.
The Smartwatch is here to stay
CES is said to bring us even more wearable technology from a variety of different brands. The new Steel from Pebble has kicked off the show in the right direction, with a good looking and affordable model. Pebble should see some stiff competition in 2014 as brands like Apple, Qualcomm and Samsung are set for new models. In fact, rumors point to Samsung releasing an update to their Galaxy Gear smartwatch at this years show. Will you be buying a new Pebble Steel this month? Or, will you hold out for a potential iWatch from Apple? Leave your comments below.
via: TIME
image – Pebble
[cf]skyword_tracking_tag[/cf]
Comments
comments