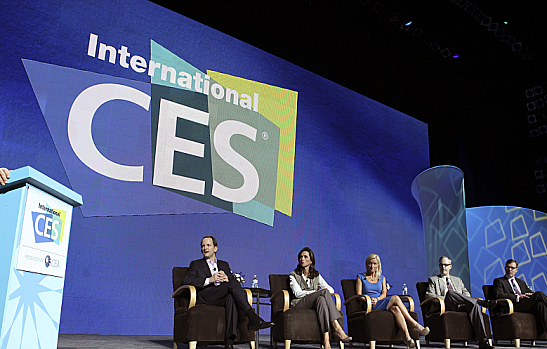 Smart appliance manufacturer Haier introduced the Haier Tianzun air conditioner at CES 2014 in Las Vegas, garnering attention not just for an intelligent, mobile-enabled interface but also for its prominent Apple MFi logo. Haier is the first enterprise application to pass the company's strict third-party standards to earn MFi certification, and the company has plans to leverage this technology in future appliance developments, according to a Haier press release. Apple is well known for its reticence to trust outsiders with technical specifications for its mobile devices, so for Haier to earn the logo was no easy feat—but is MFi really so critical to smart appliance evolution?
Moving Forward with MFi
MFi means "made for iPhone" or iPod, or iPad, and is typically seen on accessories and devices manufactured by Apple itself. The logo lets users know their iDevice will not only work with whichever entertainment product or appliance they're trying to connect to, but has been specifically designed to take advantage of Apple's technology infrastructure. Much like its iOS, however, the company is reluctant to give out trade secrets to other enterprises, leading to a host of devices on the market which work with iPhones and iPads, but don't always work well. 
Companies hoping to make their particular product directly compatible with iDevices need to apply for entry to the MFi program, which grants access to hardware connectors and components, testing tools, and technical specifications. As Apple spokesman Tom Neumayr told CNET, these specifications "provide clear guidelines for developing accessories and they are available to MFi licensees for free." There are two MFi licenses available: Development and Manufacturing. Development licensees create prototypes of MFi devices, but don't have the manufacturing clout necessary to mass produce. Haier obtained a manufacturing license, which allowed them to develop their appliance, design its interface to Apple's standards, and then mass produce the finished product. In addition, this license grants them the use of Apple's MFi logo and lets them submit sales, inventory, and forecast reports. 
The Rise of Smart Homes
The Haier Tianzun air conditioner arrives at a critical time in the mobile industry. Device-paired home technology is rapidly gaining ground as companies look for ways to let users control all aspects of their life at home, even when they are away. Air conditioners are another step forward—paired with an intelligent app, users can get readings of the outside temperature and start up their A/C unit before leaving work, helping to conserve energy during the day and ensure a cool house when they return. 
MFi is an extension of Apple's aim to remove unnecessary tech complexity in favor of a streamlined user experience. Apple cannot make every product on the market and must, in some cases, allow other companies to design appliance which work seamlessly with iDevices. Haier has gained a measure of notoriety as the first MFi-certified enterprise manufacturer at this year's CES, but they won't be the last. Expect to see a proliferation of appliances compatible with not just Apple but Android and Windows devices over the next few years. 
Do you see this development as a necessary link, or prefer separation between your appliances and the App Store?
Image courtesy of Wikimedia Commons
[cf]skyword_tracking_tag[/cf]
Comments
comments