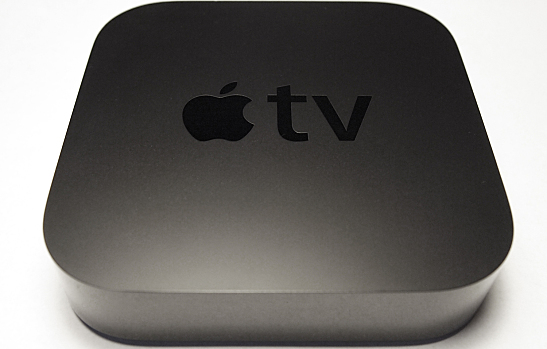 As streaming media device competition continues with no major Apple TV updates since its second-generation release in 2010, Apple lovers are finding themselves questioning the fate of the company's little black box.
As of 2013, 14 percent of U.S. households are now equipped with a streaming media device, and that is expected to more than double by 2017, according to Parks Associates. Apple CEO Tim Cook announced that the company has sold more than 13 million Apple TVs, The Verge reports. However, Roku and Chromecast are quickly gaining popularity in the rapidly growing market.
Apple executives, including the late Steve Jobs, have often referred to Apple TV as a "hobby" project. For years, there has been speculation that Apple may be developing an entire television set or a radical design to the current device, but in reality there have only been minor updates to content offerings. 
An Intuitive Operating System
Apple prides itself on offering easy-to-use devices and intuitive interfaces. While the device's current interface has a clean design that is easy on the eyes, it is less intuitive than it could be. One of the problems is that as more content-provider applications have been added (including Hulu, HBO GO, and Crackle), it has become increasingly tedious for users to navigate through the system to find a specific show or movie.
In October 2012, Roku introduced its one-stop search tool that allows users to search movies, TV shows, actors, and directors across multiple channels. On the current Apple TV interface, users must search each content app one by one to find a specific show or movie.
Channel Surfing and Continuous Play
The inherent difference between watching traditional television and using a streaming media device is the ability to channel surf and to leave the TV on in the background to continuously play content. The direction that manufacturers of streaming media devices have taken is a search-and-play approach. 
In September 2013, Yahoo introduced the Yahoo Screen mobile video application "with the goal to recreate the sensation of TV channel surfing for mobile video," according to Business Insider. Two months later, Yahoo announced the addition of the app on Apple TV. This brings the concept of channel surfing one step closer to Apple TV's interface, however, users are still not able to channel surf or set up continuous play across the entire platform. The ability to quickly and effortlessly flip to the next program is an essential piece in creating an intuitive television viewing experience.
Content and Apps
The latest addition of Watch ABC, Bloomberg, Crackle, and KORTV content has been a positive step for the device, but Apple is still in need of a partnership with a cable provider to realistically compete in the market. Cable companies still own the vast majority of content that consumers want to watch. If Apple can't achieve a partnership with at least one of the major cable companies, it will remain at a significant disadvantage to Roku, which currently partners with Time Warner Cable.
Beyond video content, streaming media devices also have an opportunity to expand upon the television set's role in the living room. Roku currently offers 66 gaming applications. AirPlay allows users to project content from games and other third-party applications from their iPhones and iPads to the TV screen. If the Apple device was equipped with a camera and microphone, users could use FaceTime to make and receive video calls on the TV screen.
When the original iPhone was released in 2007, it came only with the Apple-installed applications. In March 2008, Apple began allowing third-party developers to create and deliver new apps through the App Store. That skyrocketed the iPhone's capabilities, generating over one million different apps available as of 2013, The Verge reports.
Opening up the device to third-party app developers could bring the potential of a substantial amount of other unique applications. This update could be Apple's next game changer in the streaming media device market, but only time will tell the fate of the company's so-called "hobby."
Which new Apple TV features you like to see the most?
Image courtesy of Wikimedia Commons
[cf]skyword_tracking_tag[/cf]
Comments
comments