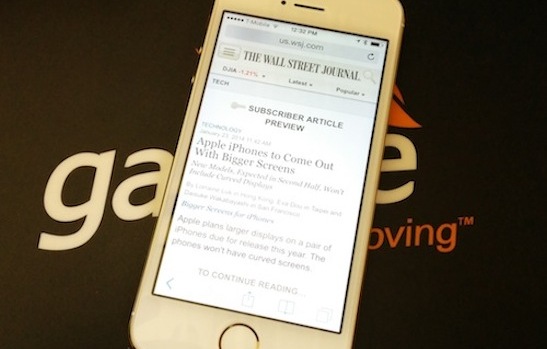 A recent report coming from the Wall Street Journal claims Apple will release two new iPhones later this year and also scrap the iPhone 5C. Sources close to the journal claim that both of these devices will feature bigger screens, one with a 4.5-inch display, and the other with a 5-inch display. This report matches up with another report from Bloomberg News published late last year.
4.5-inch and 5-inch iPhone coming in 2014
With next year's iPhone set to get a complete refresh and not an "S" type upgrade, the newly designed model should bring many changes. With rumors pointing to a bigger but thinner design, we now know that the screen size will most likely increase dramatically.

From the WSJ via 9to5mac:
"The people said Apple plans an iPhone model with a screen larger than 4.5 inches measured diagonally, and a second version with a display bigger than 5 inches. Until now, Apple's largest phone has been the 4-inch display on the iPhone 5.

Both new models are expected to feature metal casing similar to what is used on the current iPhone 5S, with Apple expected to scrap the plastic exterior used in the iPhone 5C, these people said.

The phones, expected in the second half, won't include a curved display, a feature recently introduced by rivals including Samsung Electronics Co. the people said. They cautioned that Apple's plans weren't final and that the company could change course."
If these new rumors are true, it looks as if the previous rumor of a 4.8-inch screen could be completely false. Over the past few years the WSJ has been somewhat of an unofficial "leak" source for Apple. The majority of Apple rumors coming from the Journal usually tend to be fact over rumor. Although we are hearing about two new iPhones coming next year, the WSJ made no reference on actual release date or launch season.
Apple set to bail on the iPhone 5C?
Apple's less expensive iPhone 5C has been rumored to be scrapped for 2014 according to supplier reports from the WSJ. Orders are said be extremely scaled back following less than stellar sales around the globe. Apple released the iPhone 5C to replace the iPhone 5 from 2012, and NOT to enter the low-cost market. The high price of the 5C along with plastic build, is said to be the main reason behind the lack of sales success.

If the rumors are true and we do see two new iPhones next year with bigger screens, we know one of them will be the iPhone 6. But what about the other one? If the rumors of Apple scrapping the iPhone 5C are true, it could point to another new model coming our way. What do you think Apple will give us come next year?
via: 9to5mac
source: WSJ
[cf]skyword_tracking_tag[/cf]
Comments
comments