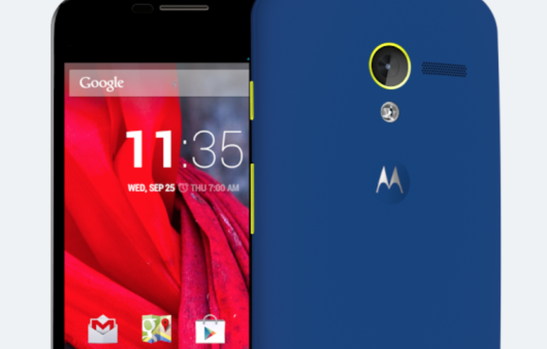 Mobile device maker Motorola has announced another Moto X price cut, just weeks after permanently slashing the cost of this phone from $549 to $399, Ubergizmo reports. Consumers are getting the chance to grab another $70 discount until Valentine's day—can you feel the love?
Good Looks
Motorola's X offering has been well-reviewed for its price point, battery life, and usability. Instead of aiming for phablet size, the company went for a more friendly, hand-fit design and a sleek, simple look with a 4.7″ AMOLED screen. The Android-based device offers robust voice control, a discreet notification system, and decent cameras — 2 megapixels in the front and 10 in the rear. The phone is Bluetooth-enabled and supports WiFi 802.11 a/g/b/n/ac, meaning it is dual-band capable. It also supports 4G LTE underpinned by a Qualcomm Snapdragon S4 Pro and 2 GB of RAM. Customers can choose between 16 GB and 32 GB models (available online only) and receive 50 GB of Google Drive storage for free.
Motorola has also focused on taking the "touch" out of many simple functions, letting the phone do most of the work. Turning on camera mode, for example, is easy: Pick up the phone, twist the screen so it is facing you, and the camera is activated. No more swiping and waiting for the camera to initialize. At $399, there's a lot to like about this phone, even in a crowded Android market. One of Motorola's top engineers, Iqbal Arshad, described it as the "most advanced smartphone on the market. Period," according to CNET. Now Motorola wants to sweeten the pot.
Quick Hitter
The Moto X price dropped even further on January 27 when the company offered a $100 discount for just one hour; between 3 p.m. and 4 p.m. ET. Customers who visited Motorola's website to register for the phone received a $100 credit code. The code was redeemable with any carrier and could be purchased off-contract. It's worth noting that the last time Motorola ran this kind of discount promotion their website wasn't able to handle the traffic—and that was for a Moto X at $349.
Motorola plans to keep sharing the love right through until Valentine's Day, keeping the price at $329. At $349, the X generated enough buzz to cause serious website problems, so it's a safe bet the company's "Moto Maker" service will be getting a fair bit of use. With more color and accent options than an iPhone at no extra charge, $329 seems like a solid strategy to move Motos.
Is $329 a sweetheart deal for the Moto X?
Image courtesy of Wikimedia Commons
[cf]skyword_tracking_tag[/cf]
Comments
comments