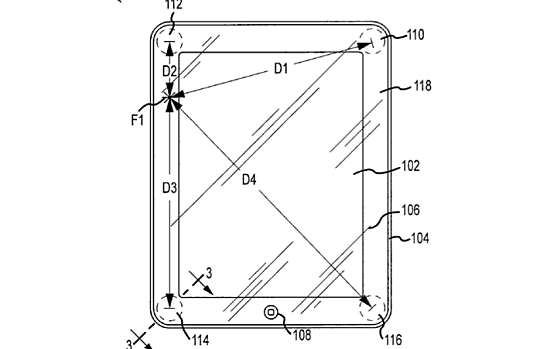 The Apple news blog, Apple Insider, has confirmed a new Apple patent for pressure-sensitive touchscreens has been filed by Apple. The patent, called "Gesture and Touch Input Detection Through Force Sensing," was published today by the United States Patent and Trademark Office.
Apple products like the iPhone, iPad and iPod Touch, are known for having some of the most sensitive touchscreens in the business. Apple is looking to further improve screen sensitivity by implementing new special pressure sensors located around the corners of the device.
Apple has noted that some gestures on current devices involving a swipe or pinch from a screen's edge are often handled as an unintended action. By adding new touch-sensitive pressure points to the outer bezel, it could open up a new commands and gestures that Apple could incorporate into future mobile devices.
One other feature that could show up in Apple products as a result of this patent, is determining the force of an onscreen press. The new multiple force-sensors described in the patent could allow users to push the screen harder to trigger a new command or control. This could be a really cool feature for gaming, drawing, and even taking pictures or video. Imagine hitting the screen harder to force a harder hit or boost while playing a fighting game for example. This would bring an extra element to game play, which gamers will love.
At the end of the day this new Apple patent is all about Apple innovating and bringing new features to future products. If the patents actually make it to final production units is another question. Current Apple products already incorporate some of the best screen sensitivity and accidental touch detection features around. As both an Android user (phone) and iPad user, I can admit to having performed many more accidental swipes and touches on my Android devices over my iPad. Hopefully this type of tech benefits the mobile industry as a whole, and not just Apple users down the road.
via: Macrumors
image – AppleInsider
[cf]skyword_tracking_tag[/cf]
Comments
comments