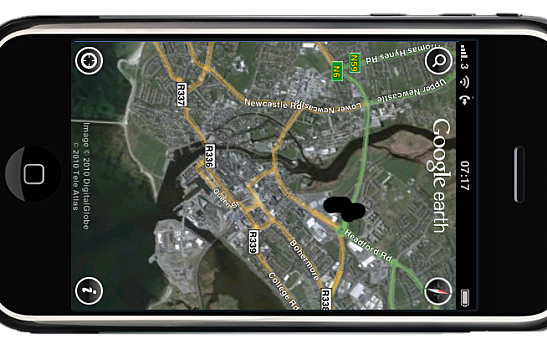 Traffic is a daily source of stress and frustration for many. Fortunately, real-time incident monitoring is making its way into smartphone apps like Google Maps for iOS, which now supports faster-route updates, even if users have already selected the "best" path. Android users received this upgrade last month, but as of February 3, the update is now available for anyone using iOS 6 or higher, PCMag reports.
Diversionary Tactics
The update relies on Waze, a crowd-sourced traffic app Google purchased for approximately $1.3 billion in June 2013. Users who have Waze installed on their devices provide reports of accidents, road closures, or construction, which is then relayed in real time to Maps. Device owners on their way home, heading to the office, or out on the highway are then warned about possible slow-downs, even if the app previously recommended a faster route.
Everything else still works the same way: The app provides directions based on a chosen route. As you drive, Google keeps track not only of the route you're on, but of all the others you didn't choose, then notifies you if one suddenly becomes faster. You're given the option of declining the recommendation or activating the new route starting from your current position.
It's worth noting, however, that this feature only works in iOS 7 if the Background App Refresh feature is turned on, and is also dependent on the number of Waze users in your area. If no one reports traffic backups, Google can't recommend a new route, even if there is a better choice available.
The Long Haul
Of course, there's no guarantee the update will be enough to save Google Maps from the increasing clout of Apple's proprietary alternative. When Apple opted out of Google's services and decided to go with providers like TomTom and AutoNavi, the prevailing assumption was that users would download the Google Maps app and ignore the iOS-native version. At first, that's exactly what happened: Apple's alternative was clunky and unresponsive, while Google's performed as expected.
But then the iDevice maker went back to the drawing board and emerged with a system that was simple, functional, and attractive. Now Google is the underdog for iOS mapping. According to ZDnet, this is largely because Apple Maps is part of iOS rather than an add-on. Even a "good enough" alternative to Google will see more use over time because all iOS devices, from laptops to tablets to smartphones, have native access to Apple Maps.
Google Maps for iOS got a significant upgrade this month with real-time quick-route prediction, but is this enough to convince Apple users they need a third-party mapping app—even if it is from the company that started it all? Which do you prefer: Google Maps or Apple?
Image courtesy of Wikimedia Commons
[cf]skyword_tracking_tag[/cf]
Comments
comments