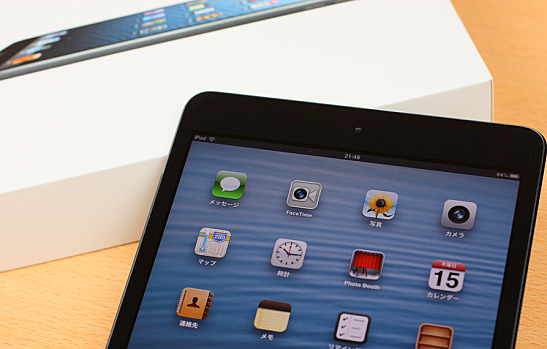 The Apple iPad mini has remained a popular option for consumers looking for a tablet experience at an affordable price. As the popularity of the mini soars, a new report indicates that while it is affordable, it might not be as durable as other gadgets on the market.
iPad mini, Galaxy S4 Top Breakable List
A recent study conducted by electronics insurance firm SquareTrade Europe suggests that several popular Apple devices are more likely to break than those from competing manufacturers like Motorola and Google, according to The Telegraph. The study concludes that among popular mobile gadgets, the iPad mini is most fragile, followed by the Samsung Galaxy S4, which ranks as the second most likely to break.
The Breakable List
For the study, SquareTrade took into consideration the weight, construction, water resistance, "grip-ability," and design of several mobile devices. Each device tested was dropped from a specified height to a concrete floor and then given a fragility score, with the highest score being most breakable and the lowest least breakable.
Apple and Samsung devices topped the list, with Apple having four of the most breakable in the top 10, while Samsung came in second with three devices on the list. The Apple iPad mini had the highest fragility score at 7.5, while the Samsung Galaxy S4 earned the second spot with a score of 7. The iPad Air ranked third and Samsung's Galaxy S3 ranked fourth, both with a score of 6.5, followed closely by the iPhone 5c with a score of 6.
The Nexus 7.1 came in sixth, also with a score of 6, and the Samsung Galaxy Tab 3 seventh with a 5.5 rating. Rounding out the list are the iPhone 5s in the eighth slot with a score of 5.5, the Nexus 7.2 in ninth with a score of 5, and Motorola's Moto X with the lowest fragility score of 4.5.
Scratching the Surface
"We want to help people make smart choices when it comes to choosing gadgets," SquareTrade's Managing Director of Insurance Kevin Gillian told The Telegraph. While durability remains a factor in mobile consumers' buying decisions, other factors such as price, ease of use, aesthetics, and popular cultural trends are also important. The International Business Times reports that Apple and Samsung combined hold over 60 percent of the U.S. smartphone market. Even though their devices top this fragility list, both brands are likely to continue their dominance in the smartphone and tablet market because of their strengths when it comes to other factors important to today's electronics consumers.
How strong a factor is durability for you when purchasing a mobile device?
Image courtesy of Flickr
[cf]skyword_tracking_tag[/cf]
Comments
comments