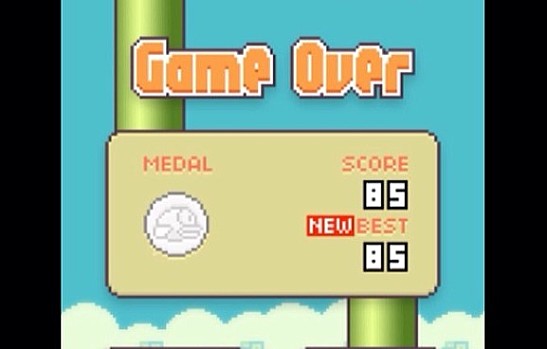 In a surprise move, the popular Flappy Bird app has been removed from app stores by its creator, reports Reuters. The game was one of the most popular free mobile games on both the Apple App Store and Android's Google Play.
Game Over for Flappy App
The highly popular app has officially been removed from app stores as of midnight Sunday, February 10. Game designer Dong Nguyen warned fans via Twitter 22 hours earlier that he planned to take down the app: "I am sorry 'Flappy Bird' users, 22 hours from now, I will take [the app] down. I cannot take this anymore. It is not anything related to legal issues. I just cannot keep it anymore."
Nguyen created the popular app by himself over a couple of nights, and the deceptively simple game became a player favorite, with over 50 million downloads on Google Play alone. The premise of the game is to fly a bird through a series of pipe obstacles, with graphics reminiscent of old 8-bit Nintendo games. Nguyen's reference to legal issues in his February 9 Tweet may be referencing rumors that Nintendo had threatened legal action against the Hanoi-based developer, although Nintendo has refused to comment. While the game appears simple, it proved extremely difficult, a challenge that both attracted many mobile gamers and made some frustrated—even angry.
Too Much Success?
According to The Independent, the game's difficulty led to a barrage of negative messages directed at Nguyen, which could have played into his decision to remove it. Nguyen had previously tweeted that while he was pleased that the game took off not long after it hit app stores, its success ruined his "simple life" and he came to hate it.
TIME also muses that the astonishing success of the game—it earned more than $50,000 per day—could have played into Nguyen's decision to remove it. This amount of money is 200 times the average monthly salary in Vietnam, and perhaps the unexpected wealth was too much for Nguyen's "simple life." As an independent designer rather than a corporation, the stress and pressure of the game's success may have proved too much.
Whether or not Flappy Bird will ever fly again in the app stores, those who have already downloaded the game will still be able to play it on their phones. Nguyen, in the meantime, has promised to keep building more games; it remains to be seen whether these will become as successful as Flappy Bird, and whether Nguyen will be able to keep up with success next time.
Are you sad to see Flappy Bird exit the app scene?
Image courtesy of Flickr
[cf]skyword_tracking_tag[/cf]
Comments
comments