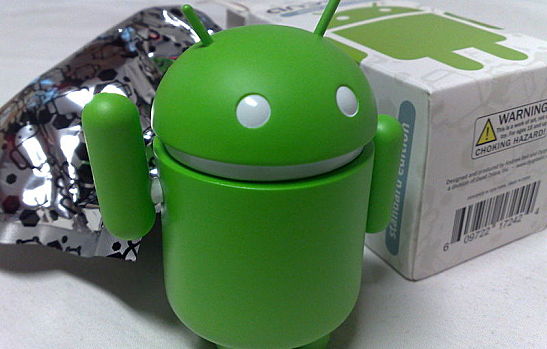 Android continues to gobble up market share from its competitors, accounting for 79 percent of the smartphone market in the fourth quarter of 2013, according to new data from International Data Corporation (IDC). Smartphone market share is far from the only metric used to determine a successful device line or mobile OS, but the quarterly and yearly numbers do present a fairly clear idea of how the market will look over the coming years.
This shows some fairly remarkable growth, considering that Android held 69 percent of the market share in 2012. While a large number of manufacturers account for the overall Android number, Samsung was once again the clear winner, accounting for over 39.5 percent of shipped Android devices.
Android's main competitor, Apple's iOS, had a fairly solid year, with shipments rising 13 percent over 2012. Given the large number of Android devices that entered the marketplace, iOS lost market share, falling to 15.2 percent from 18.7 percent in 2012.
Microsoft had a bit of a mixed year. Year-over-year sales for the Windows Phone OS increased 46.7 percent, but only accounted for 3.3 percent of the market. BlackBerry continues to languish, now making up just 1.9 percent of the market, down from 4.5 percent in 2012.
The overall smartphone market saw the first year that over 1 billion handsets were shipped, although IDC doesn't believe that constant double-digit growth will continue over the coming years. The company did point out that smartphones priced under $200 accounted for almost 43 percent of shipped handsets, representing a huge opportunity for those manufacturers that can make a profit selling smartphones around this price point.
Keep in mind that these numbers represent smartphones shipped from the manufacturers, so they might not exactly match up with actual sales. Still, IDC's numbers do align well with earlier 2013 numbers released by Strategy Analytics and are generally consistent with other industry figures.
As far as the future of mobile technology goes, Android fans have a lot to be excited about. Application developers may still be drawn to the higher sales penetration that the iOS platform offers, but if Android's numbers continue to grow past 80 percent of the market, the two platforms may wind up on equal footing due to Android's massive smartphone market share advantage.
Do you think that Android's continued surge portends it becoming the preeminent mobile OS, or are these numbers to be expected when Android offers numerous smartphones at such low price points?
Image courtesy of Wikipedia
[cf]skyword_tracking_tag[/cf]
Comments
comments