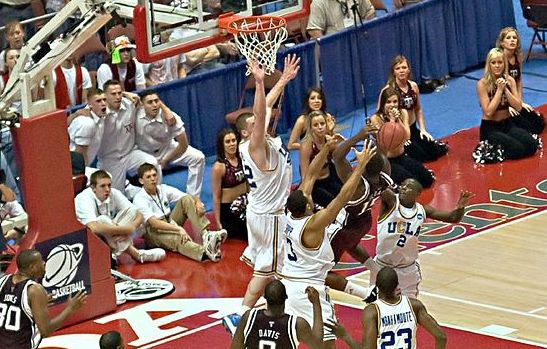 It's that time of year again. Fans from across the country are huddling around their TVs to watch March Madness and enjoy all of the excitement that comes with it. But people are busy, and it can be difficult to set aside time to watch all the games at home, even with a DVR.
Luckily, college basketball fans have several mobile apps to choose from to keep track of the latest scores, build their brackets, and watch the games live.
March Madness Live (iOS, Android, and Windows 8)
March Madness Live, the official March Madness app, is the best way to watch the games on a mobile device, bar none. You can stream the games live onto your tablet or smartphone, or use the app as a second screen while watching at home to keep up with scores, brackets, and live updates from other games. If you're really short on time, you can use the app to view highlights from each game, no matter where you may roam.
WatchESPN (Free, iOS and Android)
Don't miss a second of the NCAA Tournament action with WatchESPN. This app lets you stream live games to any of your devices. While the app is free, you will need to input your cable provider information to use it. You can use this app in conjunction with the ESPN Bracket Bound (Free, iOS and Android) app, which offers up-to-date information about every team and player participating in the games. View stats, make predictions about who will go pro, and watch highlights from the best games.
Slingbox
Rather than going the app route, you may want to use a device like Slingbox that simply allows you to watch live TV through your mobile device. Compatible with Apple, Android, and Windows 8 devices, the Slingbox transmits live TV programming to your tablet, smartphone, or laptop with the SlingPlayer app ($14.99, iOS, Android, and Windows 8). This means you can watch any live or digitally recorded TV broadcast, no matter your location—perfect for fans who are always on the go or who travel frequently.
If you want to watch March Madness this year, do yourself a favor and load these apps on your smartphone or tablet now. How do you plan on keeping up with the Madness this season?
Image courtesy of Wikimedia Commons
[cf]skyword_tracking_tag[/cf]
Comments
comments