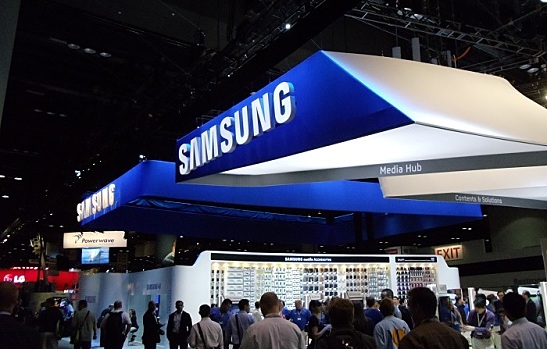 Now that I have given you my best 5 smartphones of 2014, I just couldn't leave out all the other great technology that came out of both CES and Mobile World Congress this year. From wearables to tablets and everything in between, here are the 6 best gadgets of 2014 that are sure to make waves in the coming months, or at least give Apple something to beat.
The 6 Best Gadgets of 2014
6. Huawei MediaPad X1 – "Look Out Nexus 7"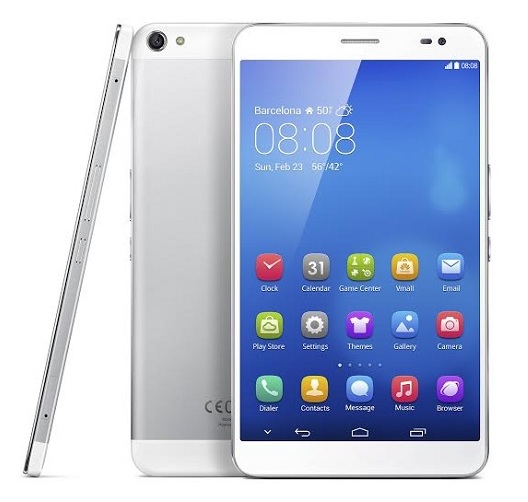 (image courtesy of Huawei)
The new Huawei MediaPad X1 was one of the best looking and best performing tablets releaed at Mobile World Congress last week. This hot new tab features a 7-inch full HD display and sports a 1.6GHz quad-core processor with 2GB of RAM and 16GB or 32GB of storage. The X1 also features an amazing camera with the 13MP Sony Exmor R BSI sensor and a 5MP front-facing camera. The 5000 mAh battery should also last you well over a full day of use. The Huawei MediaPad X1 will be available in China, Russia, Western Europe, the Middle East, Japan and Latin America in March 2014. Price has yet to be announced.
5. Samsung Galaxy Note Pro 12.2 Tablet – "The Tablet for the Pro"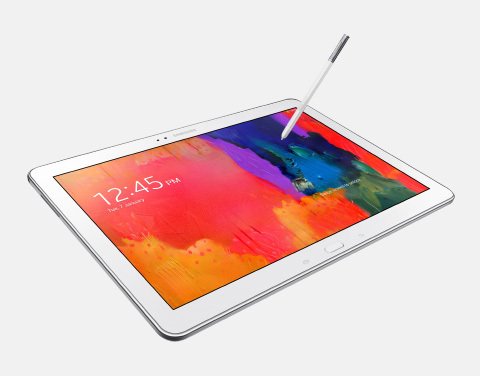 (image courtesy of Samsung)
The new Galaxy NotePro 12.2 features a 12.2-inch display with a 2560 x 1600 resolution. Under the hood there is a Snapdragon quad-core processor from Qualcomm called the Exynos 5 octa, 3 GB of RAM, an 8MP rear camera, a 2MP front-facing camera, Android 4.4 KitKat OS and a mega-packed 9500 mAh battery unit. This new piece of sexy tech won't come cheap as this tablet is will set you back a hefty $749 for 32GB version. $749 for 32GB or $849 for the 64GB @Amazon.
4. Samsung 85″ Bendable UHD TV – "Bend it like Beckham…in HD"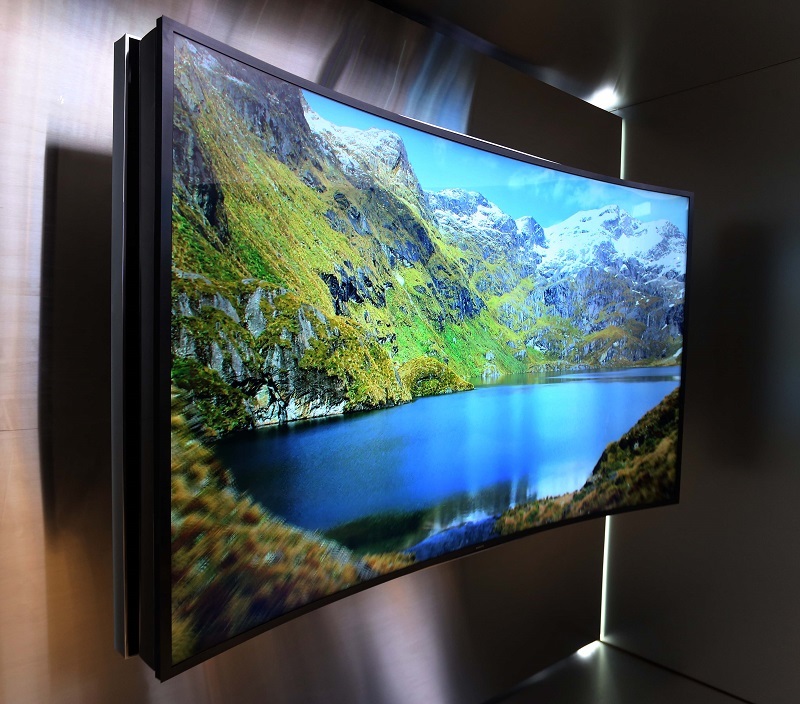 (image courtesy of Samsung)
Samsung has been making some of the best televisions for years, and some of the overall best gadgets in 2014 thus far. Their latest 85-inch Ultra HD TV offers a new trick never seen by a television before: the display panel can "transform" from a completely flat viewing angle, to a curved panel display in seconds. All this is done from the included remote at a touch of a button. Samsung's 85-inch bendable 4K TV is set to launch during the second half of this year under the model number U9B. No detail on exact street launch date or pricing has been released by Samsung.
3. Pebble Steel Smart Watch – "The World's Best Smartwatch"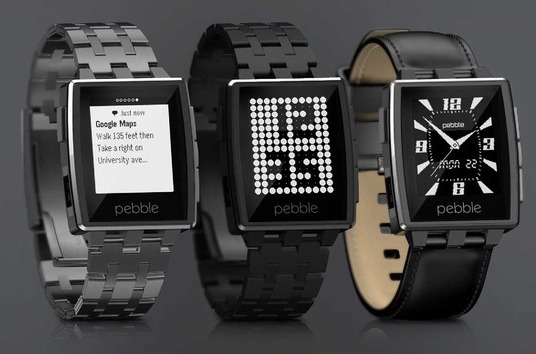 (image courtesy of Pebble)
The new Steel from Pebble sports a premium metal look with a Gorilla Glass scratch resistant glass face. The model features a more refined look than the original Pebble, which should attract watch lovers and not just tech geeks. Pebble has packed the Steel with many of same features found on last year's model, like 5-7 hours of battery life, E-Ink screen, push button controls and a water-resistant case. The Pebble Steel will come in two versions: a Brushed Stainless and Black Matte. Each Steel will also ship with two bands, including a matching metal band and a black leather strap. Pebble has made the new Steel smartwatch both sleeker and smaller, while keeping the display the same size. The new Steel is available now at Pebble for $249.
2. Samsung Galaxy Gear Fit – "The Best Galaxy Out There"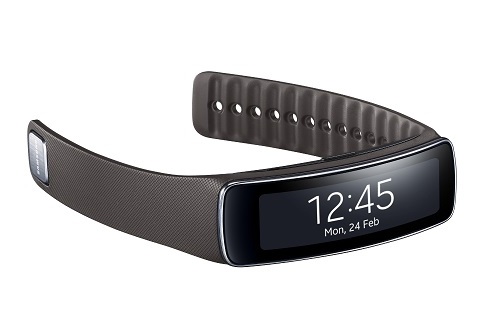 (image courtesy of Samsung)
Samsung's first wearable device, the Galaxy Gear has shared mixed reviews since it first launched nearly six months ago. Samsung is now looking to put its toe into the world of Fitness bands with the new Galaxy Gear Fit. This Nike Fuelband type tracker features a curved 1.84-inch screen and a built in heart rate monitor to make sure your ticker is ticking properly. The Fit will sport Bluetooth 4.0 and connect to most Android smartphones. The device will also work as a smartwatch which will show you email, SMS and third party notifications. Samsung Fit was recently awarded the best in show at this year's MWC show in Barcelona. Expected price is $150 this April.
1. Sony Xperia Tablet Z2 – "Thin & Powerful Meets Ultra Durable"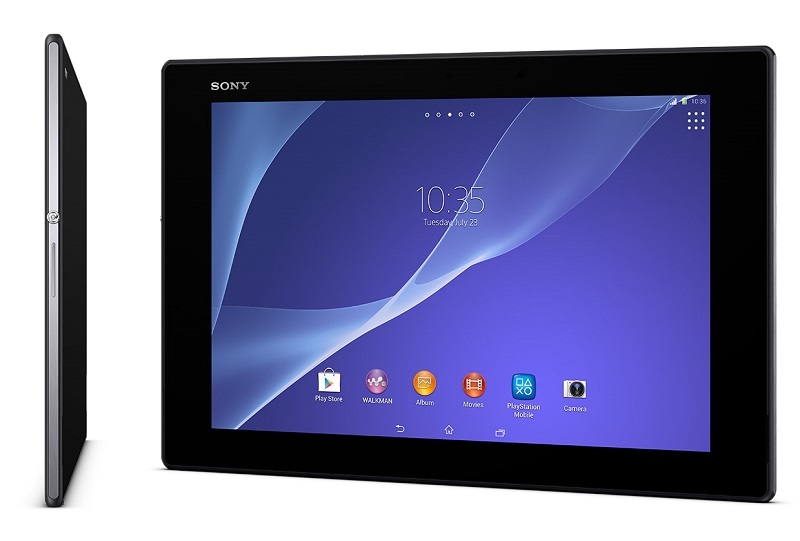 (image courtesy of Sony)
The all new Xperia Tablet Z2 brings a thinner and more powerful design compared to last year's Tablet Z. Sony claims that the Tablet Z2 is now the thinnest 10-inch tablet on the market measuring it at only 6.4mm thick. Sony has outfitted the Xperia Tablet Z2 with a 10.1-inch FHD (full high definition) TRILUMINOS display with Live Color LED. The tablet will be powered by the brand new Qualcomm Snapdragon 801 chipset (2.3GHz quad-core processor and Adreno 330 graphics) and sport a hefty 3GB of RAM.
When it comes to imaging we won't see the new 20.7 sensor that we get on the Xperia Z1 as Sony has elected to use an 8.1MP Exmor RS rear camera and 2.2MP front camera. Battery life should be on par with last year's Xperia Tablet Z, as Sony will use the same 6,000mAh battery. The Xperia Z2 Tablet will be available in black or white when it launches globally from March 2014. US pricing is yet to be determined, but I expect it to be around $500 for the base version.
[cf]skyword_tracking_tag[/cf]
Comments
comments