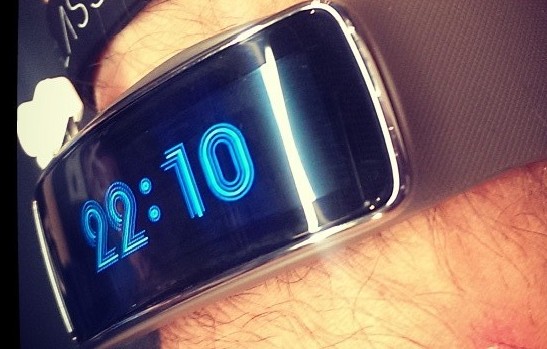 The GSMA chose the Samsung Gear Fit as the "Best Mobile Device" at last week's 2014 Mobile World Congress (MWC), according to the Samsung Electronics official blog Samsung Tomorrow.
More Than Just a Fitness Tracker
The Samsung Gear Fit is a new piece of wearable technology that belongs in a category all its own. "I'm not entirely sure whether it is a dumbed down smartwatch or just smarter than the average fitness band," describes Android and Me reviewer Sean Riley.
Like traditional fitness bands, the Gear Fit is aimed at an active user. The device contains a heart-rate monitor, an accelerometer, and a gyroscope. With these features, the Gear Fit can monitor your workout and purportedly even provide personalized fitness coaching with instant feedback. In addition to the redundant list of running, hiking, and walking, Samsung says the device will be able to track users while cycling.
Design Features and Specs
The Gear Fit sports a curved Super AMOLED screen that displays brilliant color, but the difference between the Gear Fit and your average fitness band is in the connectivity, not the graphics. With Bluetooth v4.0 LE, the watch can sync to all Samsung Galaxy smartphones. Once synced, the Gear Fit provides constant updates on phone calls, messages, alarms, emails, and third-party app notifications.
Weighing only one ounce, the Gear Fit is hardly bogged down by the technology it carries. If its IP67 rating is accurate, it is completely impervious to dust and is water resistant for at least 30 minutes at a depth of one meter.
Samsung's New Wearable Lineup

Samsung announced the Gear Fit simultaneously with two other new pieces of wearable tech: the Gear 2 and Gear 2 Neo smartwatches. Of the three, the Gear Fit had the best reception at the MWC. In a departure from Samsung's original Galaxy Gear, all three new wearables will use Samsung's proprietary Tizen operating system rather than Google Android.
The Galaxy Gear never gained widespread popularity or generated large sales. Perhaps consumers who were driven away from the Galaxy Gear by the smartwatch's large size will be more interested in the sleeker Gear Fit. On the other hand, runners and cyclists may be turned off from the potentially useful product because they may not wish to receive updates while they work out. For those who consider their runs a time to get away from the phone, increased connectivity may make the Gear Fit completely unappealing.
The 2014 MWC took place in Barcelona, Spain from February 24 to 27. The "Best Mobile Device" title was bestowed by the Global System for Mobile Communications Association (GSMA), the industry trade association that runs the MWC.
What do you think of the new Samsung Gear Fit? Is it predictive of innovations to come in the near future?
Image courtesy of Flickr
[cf]skyword_tracking_tag[/cf]
Comments
comments