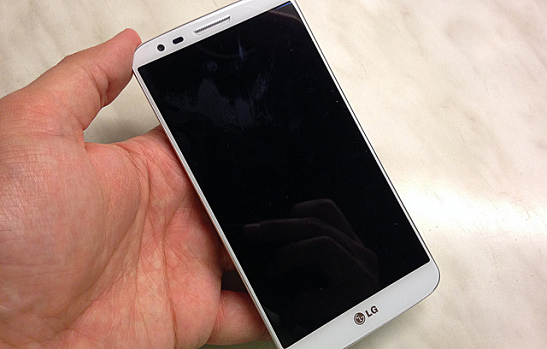 The new LG G Pro 2 phablet was officially launched at the recent Mobile World Congress in Barcelona, and the successor to the LG G Pro comes with significant upgrades, including a faster processor, larger screen, and upgraded camera.
G2 Pro: Phablet-Sized
The LG G Pro 2 fits squarely into the phablet category with a 5.2-inch screen and overall dimensions of 6.2 inches by 3.2 inches. CNET reports that the phone, available in white, titan, and silver, is only 0.3 inches thick, with a slim 3.33 mm bezel edge. The larger display supports a full HD 1,920×1,080-pixel resolution, which provides a clear and detailed viewing experience, according to a GSMArena review. This is an ever-so-slight downgrade from the G Pro; however, critics have not yet reported a noticeable difference.
The G Pro 2 has a plastic body, and the power and volume keys are located under the camera on the backside of the phone. The rear-facing camera takes 13 megapixel pictures, and has an optical image stabilization feature integrated into its lens. The rear-facing camera is able to shoot in ultra-HD with a 4K resolution and has slow-motion ability. The front-facing camera has a flash, but at 2.1 megapixels, it is unlikely to be the camera of choice for most users.
What's Under the Hood
The LG G Pro 2 comes with the popular Snapdragon 800 processor, a quad-core chip that packs a powerful 2.26 GHz of computing power. The phone runs on Android's latest KitKat 4.4 version, with 3 GB of RAM and microSD, NFC, and Bluetooth capabilities. The G2 Pro offers buyers the option of either 16 or 32 GB of internal memory.
According to Emirates 24|7, the G Pro 2 also introduces a new way for users to unlock their phones, called Knock Code, which uses a series of screen taps to unlock the device. "Knock Code is an example of LG bringing simpler, more convenient solutions to consumers' mobile lives," said Dr. Jong-seok Park, LG CEO and president. "Our researchers took a long, hard look at how consumers were really using their devices in their daily lives and included just the most useful UX features. We think customers will agree."
While the G Pro 2 has already gone on sale in Korea, official dates for a U.S. release are currently unknown. GSMArena speculates that a late March or April release is possible.
Are the upgrades that come with the G Pro 2 impressive enough to cause you to consider upgrading from its predecessor?
Image courtesy of Flickr
[cf]skyword_tracking_tag[/cf]
Comments
comments