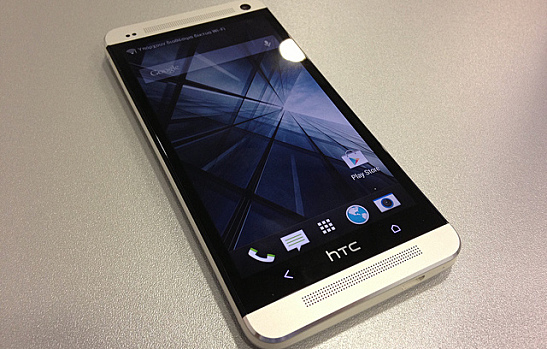 The new HTC One, also referred to as the HTC M8, has reportedly outdone Samsung's Galaxy Note 3 in a performance test, according to GSM Arena. Leaked images of the next iteration of HTC's flagship handset show its speed clocking in miles ahead of its predecessor and marginally higher than the already super-fast Note 3.
New HTC One Tops AnTuTu Benchmark
The popular benchmark testing app AnTuTu was reportedly used to test HTC's new offering, which scored impressive numbers in comparative tests with some of the leading phones on the market, including the Galaxy S4 and the LG G2. This is because the new handset, set to launch on March 25, is rumored to be powered by the latest quad-core Snapdragon 801 chipset, which packs 2.3 GHz of computing power. The phone is also rumored to have a 330 Adreno GPU and features similar to the previous One model, such as 2 GB of RAM and the choice of either 64 or 32 GB of storage.
Pictures Reveal Dual Camera, Dual LED
TechRadar reports that the latest set of images leaked online confirm that the new HTC One will have dual rear-facing cameras capable of 3-D pictures and videos and a dual-LED flash. It also seems likely that, like its predecessor, the new incarnation of the flagship HTC phone will use UltraPixel technology. According to another recent TechRadar article, UltraPixel technology is relatively new to the smartphone arena, and some have reservations about it since the cameras only take 4 or 5 MP images.
"For years people have been misled on the importance on cameras. It's not megapixel. It's not pixel count, but pixel size. Bigger pixels let in more light. It's pure science," HTC Senior Vice President of Design Scott Croyle explained. "[In] the UltraPixel camera, pixels gather 300 percent more light than conventional sensors. Better action shots, burst mode of 8 shots a second. A giant leap in what's possible."
The leaked pictures also show that HTC has removed the physical buttons below the display in favor of on-screen buttons. This will allow the new HTC One to have a larger screen size without increasing the size of the phone handset overall—the new handset's display will likely be 5 or 5.2 inches high. The overall quality of the display is not likely to be upgraded, as HTC is expected to stick to a 1080p resolution screen, perhaps leaving the upgrade to a full-HD display for the 2015 iteration of the phone.
Do you think the benchmark test results will help spur adoption of the new HTC One?
Image courtesy of Flickr
[cf]skyword_tracking_tag[/cf]
Comments
comments