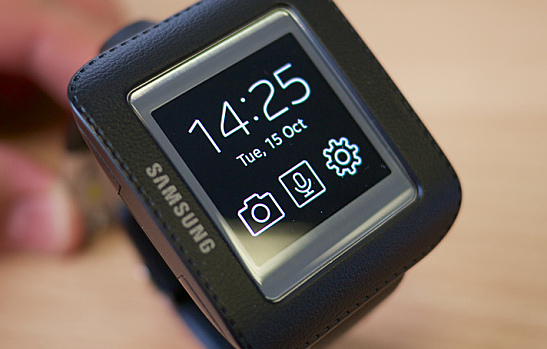 Samsung announced the April international release of the next generation of Samsung's original Galaxy Gear smartwatch, the Gear 2 and the Gear 2 Neo, USA Today reports.
Specs and Features
The specs on both watches are similar and quite impressive: 512 MB RAM, 4 GB storage, and a 1 GHz dual-core processor. A heart-rate meter, pedometer, accelerometer, and gyroscope provide fitness band functionality, and built-in lR LED sensors allow the watches to function as TV remote controls.
The Gear 2 sports a 2 MP camera, which isn't included in the Neo. This is the only major functional distinction between the two models, according to Android and Me. The only other noticeable difference is in color: both come in Charcoal Black and Wild Orange, while the Gear 2 is also available in Gold Brown, and the Neo is available in Mocha Grey.
Tizen OS
The first-generation Galaxy Gear ran Google's Android operating system; the new additions to Samsung's wearable lineup will instead run on Tizen, Samsung's proprietary OS. The Gear 2 and Neo will be able to link with Samsung Galaxy smartphones, but not with Android phones from other manufacturers.
Extensive integration through Bluetooth LE 4.0 allows "both devices [to] act as an extension of a consumer's daily life, offering users more control of their lives with standalone features," according to Samsung Tomorrow.
Gear 2 and Your Samsung Smartphone
With a compatible smartphone, the watches can answer or make calls, receive notifications and text messages, and control other phone apps. Through Bluetooth, users will be able to play music from the Gear 2 on headsets or speakers. Samsung is developing Tizen-based apps for the devices and has invited third-party developers to do the same. Featured apps listed by Samsung include: BMW, CNN, Condé Nast, Expedia, eBay, Evernote, Feedly, GARMIN, GM's Onstar, Line, Path, Paypal, RUNTASTIC, Volkswagen, Weather Channel, and Under Armour's Map My Fitness.
The Samsung Gear Family
The Gear 2 and Gear 2 Neo were introduced along with another addition to Samsung's wearable family, the Gear Fit. So far, the 2 and 2 Neo models have received less praise than the Fit, which won "Best Mobile Device" at the 2014 Mobile World Congress in Barcelona in late February. The Fit is smaller and has fewer features; it is essentially a fitness band that gets notifications from a synced Samsung Galaxy smartphone.
Samsung's original Galaxy Gear smartwatch failed to generate large sales. The poor reaction seems to have inspired Samsung to concentrate on the emerging smartwatch market even more strongly, rather than backing out and cutting their losses.
Which new smartwatch are you most likely to use?
A. Samsung Gear 2
B. Samsung Gear 2 Neo
C. Samsung Gear Fit
D. A smartwatch from a different manufacturer
E. No smartwatch at all
Image courtesy of Flickr
[cf]skyword_tracking_tag[/cf]
Comments
comments