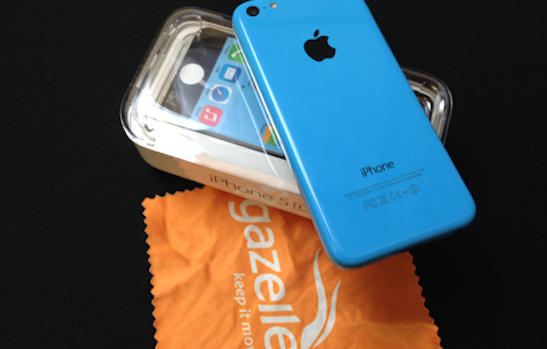 According to the rumor mill, Apple could launch an 8GB iPhone 5C tomorrow. Engadget got its hands on a photo of the 8GB 5C's packaging after a document, leaked by German carrier O2, was sent to O2 employees alerting its staff to the iPhone's launch tomorrow. The new iPhone would retail for 60 euros less than the smallest version on the market today – roughly $85 less for all our U.S. readers.
Why would Apple release a new phone?
First off, the iPhone 5C was a bit of a flop when it launched this past fall. The iPhone 5C was supposed to be a lower cost device, but as we've reported before, the iPhone 5C ended up being a rather expensive low-cost iPhone. Android devices already on the market, like the Galaxy S4 Mini, Nexus 4 and HTC One Mini all gave consumers similar features – for less money. At the end of 2013, market rumors indicated that shipments of the iPhone 5C had drastically decreased. Even a refurbished iPhone 5 was a better deal than an iPhone 5C, unless you wanted a new, colorful plastic phone. Analysts did not like the $549 price tag – it was way too expensive to penetrate emerging markets and first-time smartphone buyers.
Second, an 8GB iPhone 5C model would not vary too far in terms of production processes. Apple could manufacture the lower capacity phone without altering its manufacturing process – so basically it would cost them little money to do so and allow them to release a new, lower capacity phone for less money, hopefully capturing some of the first-time smartphone buyers in emerging markets.
Is 8GB enough?
8GB seems rather small so it may be challenging for iPhone users to have enough space for all of their apps, songs, videos, and other media. However, they already seem to sell 8GB iPhone 4S for $0, with a new contract, and those seem to be selling just fine as a mid-market phone. Plus, Apple is increasingly offering many cloud and streaming services – like Cloud storage, iTunes radio and others.
Where might it be available and what does it mean for the iPhone 4S?
Right now, these rumors are coming out of Germany so we think it will be released in Europe and Asia and possibly in the U.S. at a later date. Although Apple could surprise us and release it across all markets tomorrow. If Apple IS releasing this phone tomorrow, it will be interesting to see what they do with the 8GB iPhone 4S that is currently sold for $0, with a new 2-year contract. Will they kill this phone if they release the 8GB iPhone 5C? Probably.
Is this just a desperate ploy by Apple to sell more iPhone 5C phones?
[cf]skyword_tracking_tag[/cf]
Comments
comments