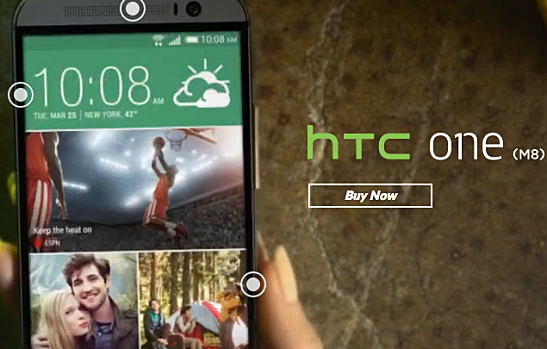 HTC officially launched the successor to the HTC One this morning, the HTC One M8. The new phone's sleek design features a metal unibody backing and edge-to-edge screen. This phone has been widely speculated all year – with leaks surfacing nearly every day. Pretty much the only thing we didn't anticipate was the name, which stayed the same. The new HTC phone is available on most carriers starting immediately. Let's take a look at what's new in the HTC One (M8).
Updated camera hardware and software
The same 4MP "UltraPixel" camera has been renamed Duo Camera since it comes with a new camera(ish) device above it. This second "camera" is actually only a sensor meant to capture additional image information that allows you to later tweak your photographs. Some of the cool things you can do with this new feature include adding snow or leaves, selectively blurring or focusing on parts of your photograph, and applying a "faux-3D" mode. It's similar to the Google Auto Awesome feature. HTC has apparently "re-tuned" the Ultrapixel camera to work closely with the Image Signal Processor in the Qualcomm chip resulting, in theory, in better quality pictures with less of a "washed out" look in bright conditions.
For video, there's also a new "Zoe" mode for taking short video clips, although none of the interesting new camera features mentioned above can be applied. Zoe is also being released as a standalone download from the Google Play store later this year so select other devices can use it to. It feels a little bit like Instagram video with friends, where you can piece together clips from friends to create a longer clip from say, a night out.
Improved battery life
One of the biggest complaints with the first HTC One was the battery life. HTC responded with a slightly larger batter on this newest model, although it's still smaller than the batteries found on some of HTC's competitor's phones like the Samsung Galaxy S5 or Sony Xperia Z2. There's now a bigger 2600mAh battery and a "quick charge" feature, which apparently charges your phone to at least 80% within the first hour of charging. We'll have to test the new HTC One to see if its battery life is truly improved and/or comparable to some of the other flagship phones on the market.
Gesture controls
HTC has announced some new gesture controls that allow you to activate certain aspects of the phone without waking the handset – something that, if applied correctly, might also help the HTC One battery issues. The camera can be quickly launched with the volume keys, and can be accessed without unlocking your device. You can now also double-tap the screen to show the time, swipe left-to-right to launch BlinkFeed, right swipe to open widgets, or swipe up to go to your last action. Obviously you'll have to enter your password lock or code to actually access these features.
Better sound quality
HTC has dropped the Beats branding and accompanying additional sound changes. HTC has tried to improve the sound quality from the dual BoomSound speakers and claims there is a 25 percent louder output.
Software
THe HTC One M8 comes with Android KitKat 4.4 pre-installed. It also comes with a new version of HTC's Sense that includes much more personalization abilities and updated to BlinkFeed UI.
BlinkFeed UI scrolls much better than its predecessors, and is now a scrolling list. The team at HTC says they have been working hard to make the feed look and feed more "cool and crisp" and has added some new content providers and ways to add content to your feed. If you don't like it, you can always remove BlinkFeed.
For personalization, HTC moved to floating buttons on the screen instead of a couple on either side of the logo, which allowed for apps to be more standardized across all devices. Thanks to a whole lot of new sensors in the device and a pre-installed Fitbit app, the HTC One can also track your steps. I'm not surprised at this, especially given all the rumors surrounding Apple's healthbook.
Hardware Specs:
Full HD 5-inc IPS display (1920×1080 px)
Quad-core 2.3Ghz Snapdragon 801 Qualcomm processor
2GB RAM
MicroSD slot for up to 128GB
16GB or 32GB onboard storage
50GB of free Google Drive storage included
Nano-SIM slot
Pre-loaded with Android KitKat 4.4.
Accessorizing your HTC One
You can also accessorize your new HTC with cases that, to me, are a little reminiscent of "Light Brite" games we had as a kid. Regardless, the new cases, with their unique design, look pretty handy as you can see time and other select features without opening the front protective cover.
Earlier this year, we took a look at What The HTC M8 Needs to Succeed. Does what was released match up?
[cf]skyword_tracking_tag[/cf]
Comments
comments