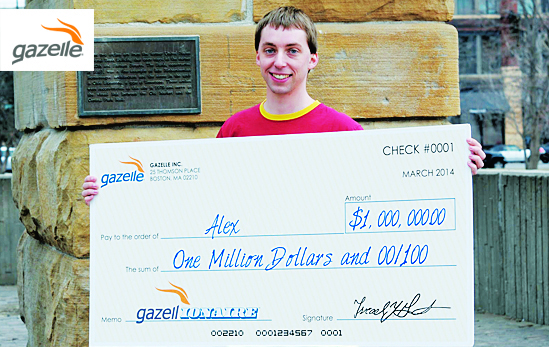 Last fall, Gazelle launched a contest to give away $1 million. Gazelle's CEO Israel Ganot announced the competition right here  on The Horn.
After the holidays, Gazelle launched a happy envelope campaign highlighting that most mail today is bills but when you get an envelope from Gazelle, it's a happy envelope because it contains cash.
Gazelle just presented the happiest of all happy envelopes to our very first Gazellionaire. Alex N, 28, of Omaha, Nebraska is the lucky winner of $1,000,000 from Gazelle's "Become a Gazellionaire" sweepstakes and it couldn't have happened to a nicer guy. Alex was randomly selected to win from all eligible entrants.
I had the distinct pleasure of meeting Alex and presenting him with his happy envelope last week in Omaha. Here is a bit of what I learned in our time together.
Alex growing up
Alex was born and raised in Grand Forks, North Dakota, the second son to his college professor parents. His first job was as busboy at Perkins. He loved math and science in school and played baseball, hockey and did tae kwon do growing up.
Alex always loved airplanes and wanted to be in aviation as long as he can remember. A licensed pilot, he realized he preferred the quality-of-life of an air traffic controller and pursued that instead.  He studied aviation at the University of North Dakota and earned money on the side as a DJ.
Alex was recruited from college by the Federal Aviation Administration to work in Des Moines, Iowa. He lived and worked in Des Moines for five years and moved to Omaha with his wife two years ago. He now supervises seven other air traffic controllers and is quickly climbing the ranks in his career.
His passions
In addition to his love of aviation – he still looks up every time he hears a plane pass by — Alex became a self-proclaimed NASCAR fanatic four years ago and shares his passion with his wife, who was his high school sweetheart. Alex is also an electronics nut, which led him to Gazelle.
Alex first discovered Gazelle in 2009 when he was looking to sell his iPhone 3GS. He discovered Gazelle on CNET and found the process of trading in his iPhone to be an easy and pain-free way to get cash for the phone he no longer needed. He has subsequently sold several iPhones and iPads each time he upgraded.
Sweepstakes entrants were not required to be a Gazelle customer to be eligible to win but it certainly pleases us that Alex is indeed, a happy customer. Some might even say he's a Gazeallot.
How it felt to win
When asked about his emotions when he learned he had won $1 million, Alex said, "It was one of those things that never happens to you. When I called the 800 number that morning and found out that it was real, I was speechless. When I was doing the initial paperwork as a potential winner, I was pretty restless and couldn't wait to find out if I was a confirmed winner!  Once you all came to visit to me and I got the "big check," it really started to sink in."
How they plan to use the money
Alex and his wife plan to use their winnings to pay off some debt and save for retirement but also to have some fun. They would love to travel to Australia and London and they feel like those dreams may soon become a reality. Alex would also love to someday meet his favorite NASCAR driver, Matt Kenseth, and an even bigger dream is to find a way to introduce a child, who is also a NASCAR fan, to their favorite NASCAR driver.
Before winning the $1 million prize from Gazelle, the only thing Alex had ever won was a hat from Twitter. When I met him, he could not wipe the ear-to-ear grin off his face.
Congratulations, Alex!
Comments
comments