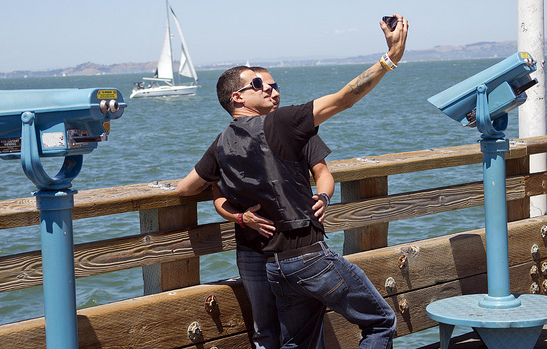 The Samsung Galaxy K Zoom launched on April 28, with the smartphone meets point-and-shoot camera being billed as the ultimate "selfie" phone, according to Mashable. The smartphone has a 10x optical zoom on the back and improves on the design of last year's bulky Galaxy S4 Zoom.
The Selfie Addict's New Best Friend
The Samsung Galaxy K Zoom packs an impressive amount of hardware and specs into a 7-ounce, 0.80-inch-thick body. The camera combines a 10x optical zoom with 20.7 megapixels. To ensure that the phone is compact, two of the camera's multiple lenses are operational only when the zoom is extended. There is a two-megapixel front-facing camera, but for the "selfie" addicts who want a better-quality shot, the K Zoom has a dedicated "Selfie Alarm," which lets users select the area where they want their face to appear in the photo. When users turn the camera around, an alarm will sound when their head lines up with the selected area, and the picture will be taken a few seconds later. Rejoice—no more split-face selfies!
The camera has several different modes, from the standard auto or landscape to a full manual control. Users can also choose from a number of modes that fit different scenarios, like "Beauty Face," "Kids Shot," or "Macro." A new feature, Pro Suggest, offers suggestions for capturing the best image of what appears on the screen when users half-press the shutter; for example, it will suggest how to fix dimly lit shots and which modes to use.
What's Under the Hood?
The Samsung Galaxy K Zoom is not just a gimmicky phone and camera: it comes with all the bells and whistles users have come to expect from a top-end smartphone. According to The Verge, the K Zoom has a hexacore processor made up of two processors running at 1.7 GHz and four at 1.3 GHz. The phone offers 2 GB RAM and uses Android KitKat 4.4 as its operating system. The 4.7-inch screen is a 720p Super AMOLED display. While this kind of phone is not everyone's cup of tea, "if you miss having the optical zoom capabilities of a point-and-shoot but don't want to carry a second device … and don't want to lose the instant sharing capabilities of a smartphone, the Galaxy K Zoom solves that," reports CNET's Joshua Goldman.
The K Zoom is set for a May release, with targeting European and Asian markets. There is no word as to when—or if—the K Zoom will be available to U.S. markets.
Is the K Zoom a winner, or will it go the way of the S4 Zoom—relegated to the dustbin of smartphone design?
Image courtesy of Flickr
[cf]skyword_tracking_tag[/cf]
Comments
comments