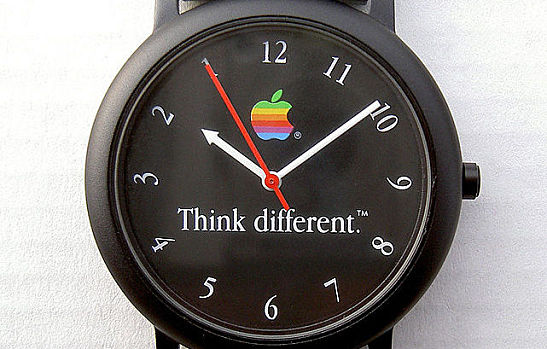 Wearable technology is the next digital frontier—at least according to companies like Google, Samsung, and Apple. While products like the Pebble watch and some iterations of Galaxy Gear have already rolled out, a September 2013 poll from Harris Interactive found that almost half of Americans think the wearable trend is "just a fad." That 47 percent may not think wearables will be useful in their daily lives, but that hasn't dampened corporate enthusiasm. In fact, new rumors are emerging about Apple's first foray into the market.
Is the Apple iWatch under production for a 2014 release?
Watch for It
Mashable reports that the iWatch is already under production in Apple's Asia supply chain. iWatch technology relies in part on system-in-a-package (SiP) modules, according to the source, which include processors, DRAM and flash memory. The device is reportedly slated for release in the second half of 2014, with three million units expected to be under construction by the second quarter of the year, ramping up to 15 million in Q3. Apple CEO Tim Cook has kept silent about the iWatch, although his company has registered a trademark for the product name in several countries.
Patent Time?
As noted by a recent Wall St. Cheat Sheet article, Apple was granted 45 new patents on April 29, fueling speculation about exactly what the iWatch will look like and how it will perform. One patent shows a device that resembles the shape of an early iPod Nano. The difference? A camera lens near the top and home button on the front, not the side. The patent also mentions using the screen for a wrist device, which has many fans focused on the iWatch.
There's also speculation that the wearable device will be more stylish than functional, since the company has been headhunting employees from popular watch makers and fashion houses—Apple hired designer Paul Deneve last summer for a set of "special projects." In addition, there's a good chance the watch will include some kind of health monitor. Because Nike, where Cook is a board member, has canceled all future FuelBand projects, it's no stretch to imagine Nike technology making an appearance in Apple's latest offering.
Cooking Something Up?
Last year, Cook spoke at the opening session of the D11 conference. He noted that he only wears glasses because he has to, not because he wants to—and doesn't know many people who choose to wear glasses if they're not required, a jab at Google Glass. Instead, said Cook, "I think the wrist is interesting. The wrist is natural," All Things SD reports. Cook made it obvious his company had a wristwatch in the works without confirming a single detail—in much the same way that Apple has nothing to say about the recent iWatch production rumors.
Is the Apple iWatch under production for a 2014 release? Time will tell.
Wearable technology: Where do you stand?
a) iWatch, absolutely
b) Galaxy Gear
c) Watches? Give me Google Glass
d) I'll stick with a smartphone, thanks
Image courtesy of Wikimedia Commons
[cf]skyword_tracking_tag[/cf]
Comments
comments