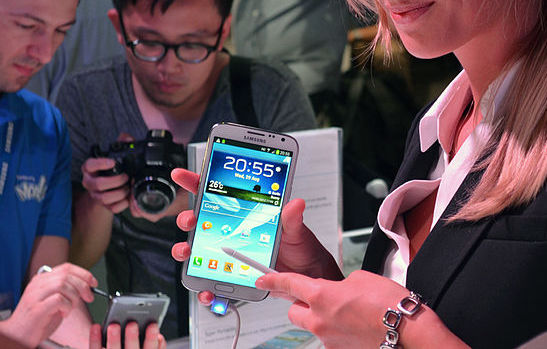 Over the last few years, mobile device manufacturers have been trying to bridge the tablet gap. Some have gone the route of faux-laptops that transform into tablets, while others have opted for "phablets," devices too large to be phones and too small to be proper tablets. Now, Asus has unveiled its answer to this tablet turmoil: the Asus PadFone X, a combination of fully-functional smartphone and intelligent docking station.
The Solution?
Asus is betting on modular design to sell the PadFone X—although at $199 (with contract), the price is right for a smartphone and docking station. The smartphone itself isn't anything spectacular; according to USA Today, users get a 5-inch, HD, quad-core Android phone running KitKat. It comes with 13-megapixel rear and 2-megapixel front-facing cameras, 2 GB of RAM, 16 GB storage, and support for NFC wireless. In other words, a standard Android phone with decent performance at a reasonable price.
But the PadFone shines when combined with its accessory, a docking station that functions as a 9-inch tablet. Just slide the phone in, and whatever was on-screen pops up on the tablet. Asus is using a technology called Dynamic Display to automatically resize apps and Web pages, although this isn't universally supported, meaning some apps must be restarted or added to a Display list for future reference. The tablet version of PadFone also runs KitKat and has a solid HD display, but it's hardly streamlined and weighs in at almost 1.5 pounds. It's worth noting that calls are part of the transition system, meaning if you're chatting away on the phone and dock it mid-sentence, you'll pick up on speakerphone exactly where you left off. At $199 for two devices, there's certainly some appeal.
The Problem?
For all the technological wizardry behind the Asus PadFone X, there's a question: who needs this device? Consumers have never really expressed an interest in jumping the tablet/phone gap, but that hasn't stopped manufacturers from trying to build a bridge. Business users are one possible audience, since phone-to-dock transition means synchronicity of documents and apps without actively managing two devices. In addition, it's certainly less costly to lose a blank docking station than a fully-loaded tablet, giving travelers one less piece of technology to monitor during long trips. For the average consumer who has yet to take the tablet plunge, the PadFone X may offer a solid selling point: the low purchase price means using both devices or one exclusively is entirely viable.
Is this a win for Asus? Maybe. But competition is fierce: according to Business Insider, Apple is already working on a new iPad Air, and Google may be prepping the Nexus 8. Meanwhile, Google's Nexus 7 continues to dominate the mid-range market.
What do you think—is this technology twofer a first-place contender, or is Asus poised to trip over a hurdle?
Image courtesy of Wikimedia Commons
[cf]skyword_tracking_tag[/cf]
Comments
comments