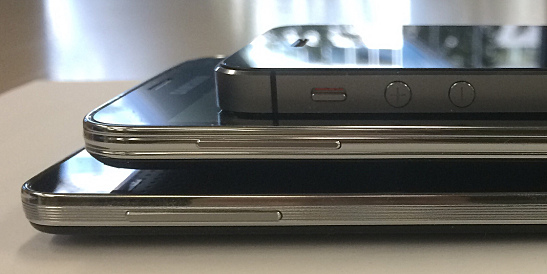 It's the ultimate smartphone size comparison! If you're in the market for a new device, there are many things to consider: carriers, cost, features, compatibility, and more. Size can be very important, too. Larger smartphones are great for some but can prove unwieldy and challenging for others.
Phone bulk was one of the inspirations behind Google's Project Ara modular phone concept, which The Verge calls, "…the most intriguing thing to happen to phones in years." Until Ara arrives in a year or more, we must choose from the countless pre-designed device options on the market today.
Advertising can confuse things further, making it hard to separate the marketing hyperbole from what you actually need. To help potential buyers consider relative size and what it means for them, here are all the major phones currently on the market, so you can see exactly how they measure up.
iPhone 5s
Display: 4 inches
Size: 124 x 73 x 8.1 mm
Resolution: 640p (1136 x 640)
Moto X
Display: 4.7 inches
Size: 129 x 65 x 10.4 mm
Resolution: 720p (1280 x 720)
Moto G
Display: 4.5 inches
Size: 130 x 66 x 11.6 mm
Resolution: 720p (1280 x 720)
Nexus 5
Display: 4.95 inches
Size: 138 x 69 x 8.6 mm
Resolution: 1080p (1920 x 1080)
Samsung Galaxy S5
Display: 5.1 inches
Size: 142 x 73 x 8.1 mm
Resolution: 1080p (1920 x 1080)
LG G3
Display: 5.5 inches
Size: 146 x 75 x 9 mm
Resolution: 1440p (2560 x 1440)
HTC One M8
Display: 5 inches
Size: 146 x 71 x 9.4 mm
Resolution: 1080p (1920 x 1080)
Galaxy Note 3
Display: 5.7 inches
Size: 151 x 79 x 8.3 mm
Resolution: 1080p (1920 x 1080)
Nokia Lumia 1520
Display: 6 inches
Size: 160 x 84 x 8.4 mm
Resolution: 1080p (1920 x 1080)
Best Use Practices
This smartphone size comparison raises two takeaway points. One, that the new resolution standard of today's mid- to high-end smartphone is 1080p, and two, that some of the smaller devices can manage 1080p display resolutions without a problem. The size range varies about 30 percent from the smaller iPhone to the 151 mm (6.2 inches) Nokia Lumia 1520. This means buyers do not have to compromise performance for convenience.
If you need a phone with a smaller footprint that fits nicely in a back pocket or a purse but still allows you to watch movies in 1080p, you can have it. Phablet-sized phones can be difficult to hold in a single hand, so investing in a strong protective case is a responsible purchase. The same goes for Bluetooth devices like wearables, fitness bands, speakers, and headphones, to minimize the wear and tear on the phone.
Is size a factor in your smartphone-buying decision? Do you value resolution over bulkiness? The rest is up to you.
Image courtesy of Flickr
[cf]skyword_tracking_tag[/cf]
Comments
comments