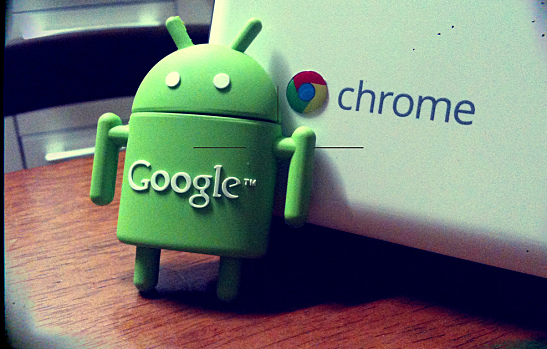 Google has started rolling out Android apps on Chromebooks, reports The Next Web, with Duolingo, Evernote, Vine, and Sight Works among the first apps already making their way onto the laptops.
The rollout of Android apps on Chromebooks is no surprise. At the Google I/O conference in June, the company announced that certain features on Android, such as notifications and text messages, would be coming to Chromebooks. It was also announced that some Android apps would be coming to Chromebooks with as few modifications as possible. Ported Flipboard, Evernote, and Vine applications were shown running on a Chromebook.
Breaking Down Barriers
While Google seems to have successfully ported the first four apps onto the Chrome operating system, it will not be an easy undertaking to break down barriers between the two operating systems. For example, some Chromebooks come with a touch screen while others do not. In addition, developers may need to improve their apps to work well with the Chromebook form factor. Switching between Google's two systems is the current challenge for both users and developers.
In January of this year, Google announced that Chrome Apps would be able to run on Windows, iOS, and Android systems, CNET reported. Developers would only be required to write the code once and could publish it everywhere, thanks to the Apache Cordova, which wraps Chrome Apps in code native to Android and iOS.
The Android Runtime for Chrome
In order for Android apps on Chromebooks and run in the same environment as other Chrome apps, the App Runtime for Chrome is required. This enables developers to make minor modifications to their apps so they run on the Chrome OS, thus reducing problems and creating a more seamless experience when switching between Chrome and Android, all while making the experience more intuitive for users.
At the moment, Google is closely guarding the system and looking to work with a few more developers to bring more apps to Chromebooks. However, the first four apps are now available to download on the Chrome Web Store.
Which of your favorite Android apps would you like to see on your Chromebook?
Image courtesy of Flickr
[cf]skyword_tracking_tag[/cf]
Comments
comments