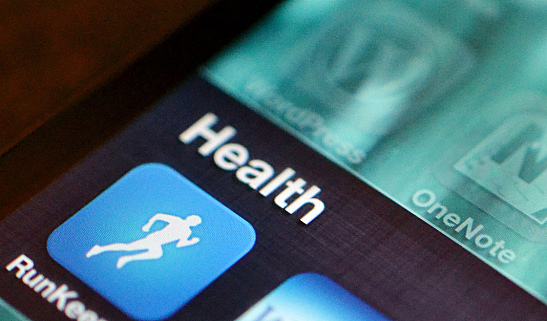 Google and Apple both recently introduced new ways to aggregate and organize health data on mobile devices, so users will soon have to decide which side to take in the HealthKit versus Google Fit battle. According to Forbes, these independent solutions are aimed at bringing developers on board to provide interesting takeaways from the data and give users more control over how their health information is used by various applications.
So what are some of the similarities and differences to look out for when deciding between a phone with HealthKit versus Google Fit?
Data Control
Previously, there was no "standard" in how fitness data was handled on Android. The Google Fit open platform for developers aims to make it easier to build fitness apps, so it is likely that there will be a larger number and a wider range of apps available on this platform.
Google Fit aggregates health data from popular third-party fitness trackers and health apps to make the information available to other applications with the user's permission. Unlike HealthKit, which compiles information within Apple's Health app, each app created on the Google Fit platform has its own unique user interface.
Some of the apps already using Google Fit include Noom and Nike Fuel, and Google has announced partnerships with many more brands—including Adidas, Polar, RunKeeper, and Withings—to launch additional apps. Of course, all of this is only possible if the wearable device manufacturer enables this capability within Google Fit.
The Apple HealthKit, on the other hand, strictly controls all health data coming from its wearable devices, such as the Apple Watch. An accompanying application, Health, helps users monitor their health metrics by collecting data from other apps and users' input. The app's interface includes a dashboard that shows various health metrics such as heart rate, active calories, hours of sleep, and weight. Third-party applications can access this data and share it with medical researchers, but collected information cannot be shared with advertisers. Apple has already partnered with healthcare providers like Johns Hopkins and the Cleveland Clinic and offers support for apps such as Mayo Clinic, Jawbone's Up app, Nike Fuel, and Epic Systems on HealthKit.
Similar to Google Fit, HealthKit pulls vital health data from device sensors and aggregates it onto a central repository. From here the data can be automated and submitted to the Health dashboard and other third-party applications with the user's permission. HealthKit, however, encrypts and stores health data right on the device, and users can decide which apps get access to what information.
Device Control
Google Fit APIs enable developers to tap into data and use it to recommend health tips for the user. Apple, on the other hand, is responsible for all points of contact for this data. While Google Fit is open-source, not all wearable device manufacturers may feel compelled to use Google Fit to provide health data to developers. They can bypass this step and still enable developers to create apps that collect data, whereas data from Apple wearable devices is tightly controlled and has its hardware stream data into one location where it can be accessed, essentially giving users more control over their health data. Apple will, however, need to onboard third-party device manufacturers and software developers to use HealthKit for better data management and tighter control of data. Like Google Fit, Apple is also working with Nike to integrate HealthKit into its Nike+ app.
Which platform are you more likely to use, HealthKit or Google Fit?
Image courtesy of Flickr
[cf]skyword_tracking_tag[/cf]
Comments
comments