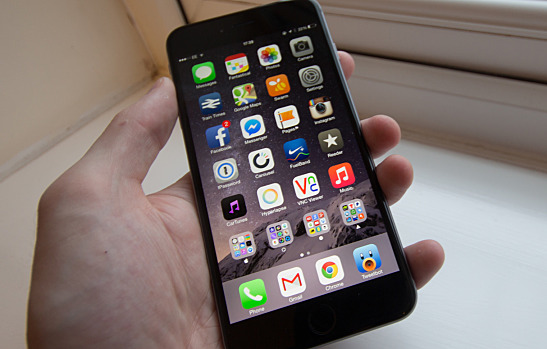 In the first three days of the iPhone 6 and 6 Plus release, Apple sold 10 million units, according to The New York Times. Despite the hype, you might want to consider a few things before rushing out to get yours.
High Cost
The price to buy an iPhone 6 with a two-year contract is $199 (16 GB), while the Plus is $299. Add an extra $100 to each to get 64 GB, another $100 on top of that for 128 GB, for a maximum of $499 for the 128 GB 6 Plus. On the other hand, the 5s is now available for $100, while the 5c is free (both with contracts). It's up to you to decide if the 6 is worth that much more.
The Size You Think You've Always Wanted . . . but Never Tried
While many iPhone users have been envious of friends' larger screens for years, the 6 Plus might prove to be a little too big. Users like Forbes reviewer Mark Rogowsky have been surprised to find that the large screen makes the 6 Plus very difficult to use one-handed, despite Apple's clever Reachability feature.
Fragility of the Glass Screen
Regardless of the smooth edge and ion-strengthened screen that seamlessly transitions from aluminum to glass, the iPhone 6 screen breaks quite easily when dropped, just like older models. In some cases, the screen even started to separate from the aluminum. To watch it happen, check out this video from TIME.
Protruding Camera Lens
The screen isn't the only durability issue; the extreme thinness of the 6 and 6 Plus required a few design changes, including a protruding camera lens. Even the iPhone 5 models' flush lenses were prone to eventually becoming scratched through normal use; a lens that extends past the housing seems to be asking for scratches that will reduce the quality of photos. Only time will tell; if you wait to buy an iPhone 6, you can see how your friends' cameras hold up.
Battery Only Marginally Improved
Though Apple has been touting its extended battery life, the iPhone 6 still can't come close to its strongest competitors. Phone Arena tests phone battery life using a script that is "designed to replicate the power consumption of typical real-life usage." The top spot is currently held by Sony Xperia Z3, which withstood the test for 9 hours, 29 minutes. The iPhone 6 Plus held out for 6 hours, 32 minutes, behind devices from Huawei, Samsung, and HTC One, in addition to Sony. The iPhone 6 lasted 5 hours, 22 minutes—a mere 20 minutes longer than the iPhone 5s.
New iOS 8 and Initial Fragmentation

When users buy an iPhone 6 or Plus, it comes loaded with iOS 8—whether they like it or not. While iOS 8 will undoubtedly be great with time, it is new and bound to have some kinks to work out.
iOS 8 also introduces iPhone users to fragmentation, a problem familiar to their Android-using friends, in which many apps are still optimized for smaller screens. Apps yet to receive an update will be displayed zoomed-in, giving them a blurry and slightly distorted look that is worse on the 6 Plus than the 6. While this problem is bound to go away with time, it is simply another reason to wait a little longer to buy an iPhone 6 or 6 Plus.
Are these potential issues enough for you to consider waiting? Or are you still set on getting an iPhone 6 as soon as possible?
Image courtesy of Flickr
[cf]skyword_tracking_tag[/cf]
Comments
comments