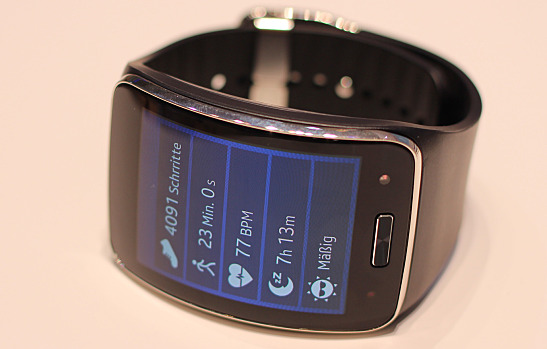 The recently announced Samsung Gear S smartwatch will make its way to the United States this fall. "The Gear S will be offered by Verizon, T-Mobile, Sprint, and AT&T, and it's possible the smaller carriers will also be offering it for sale at some point," SamMobile reports.
T-Mobile will be making an official announcement on the new wearable in October. That announcement is rumored to include more specific pricing and release date information. Alternatively, AT&T will reportedly begin in-store "previews" of the device soon, though no official dates have been announced thus far.
Specifications
The Samsung Gear S is a departure from most smartwatches entering the market, as it features a 3G radio for autonomous connectivity so a companion smartphone will not be required to make phone calls, deliver notifications, or send text messages. The device is powered by a 1 GHz dual-core processor and will make use of internal sensors for GPS, as well as heart rate and motion sensors. The display is a curved two-inch Super AMOLED display with a resolution of 360 by 480. Samsung opted not to include a camera on the device, however, it does feature a mic for voice-generated commands and functions. The watch face remains visible even when the device enters sleep mode for continued at-a-glance traditional wristwatch functionality.
Powered by Tizen
Surprisingly, the Samsung Gear S will use the emerging Tizen operating system instead of Android Wear, which seems to be the go-to OS for the vast majority of smartwatches (with the Apple Watch being an obvious major exception). The company recently announced that their budget phone, the Samsung Z, will also use the Tizen OS.
Will the autonomous Samsung Gear S smartwatch be your next wearable?
Image courtesy of Flickr
[cf]skyword_tracking_tag[/cf]
Comments
comments