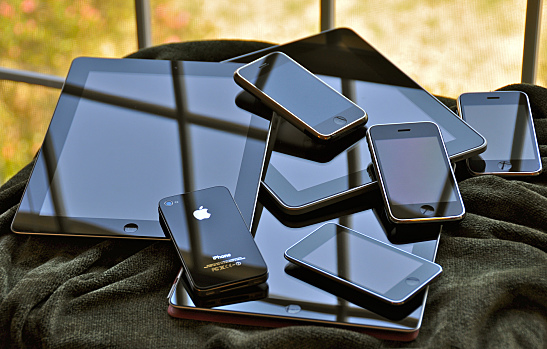 You want a new smartphone, but you don't want to pay too much. Buying pre-owned is one option for getting a great deal on a high-quality device, but now you're wondering: What's under the hood? Here's a quick comparison of mobile operating systems (OS) to help you decide which pre-owned smartphone gives you the best value for your money.
iOS
If you're considering an Apple product, iOS is the backbone. Any iPhone 4s, iPad 2, or newer device can run iOS 8, but don't be surprised if a refurbished smartphone comes with iOS 7 pre-loaded, especially if it doesn't have much memory. Apple's operating system is coded in Objective-C and is known for being user-friendly. It's also the most tightly guarded of any OS, meaning you won't be able to make high-level changes to the way your device functions. Apple offers access to more content and applications than any other OS via the App Store, but it may not be a great choice for business users or others who need the freedom to customize their device.
Android
The Android OS is managed by the Open Handset Alliance and is based on open-source software coded in Java. It's the most popular OS in the world by volume, according to TechRepublic, due to its ubiquity on a range of devices and the large number of manufacturers offering different feature sets and price points. Samsung, HTC, and Motorola devices all use Android, and the Google Play store rivals Apple's in terms of sheer volume. Using Android gives you control over almost every function of your smartphone, but the OS won't stop you from doing something irrevocable and "bricking" your phone (breaking the device, thus making it as usable as a brick), so proceed with caution. The most recent version of Android is Lollipop 5.0, though many older models still use KitKat, Jelly Bean, Honeycomb, or even Gingerbread.
Windows Mobile
Microsoft's OS is coded in Visual C#/C++ and is used primarily in newer Nokia phones. The Samsung Focus and HTC Titan 2 also run Windows Mobile. The biggest benefit to running Windows on your smartphone? Easy integration with common Microsoft programs such as Office, PowerPoint, and other productivity tools.
BlackBerry OS
Last in the comparison of mobile operating systems is BlackBerry. Just like Apple's offering, this is a closed-source OS that is only available on phones with the BlackBerry name, including the BlackBerry Bold, Curve, and Torch. Coded in Java, this OS was originally released in 1999 and it was one of the first designed to support a trackball for navigation and full QWERTY keyboard. It's reliable and stable, but is geared more toward business users than everyday consumers.
Which mobile OS is best for your pre-owned smartphone? It depends. Apple offers a seamless consumer experience, while Android offers flexibility. You may prefer the familiarity of Windows, or be a die-hard Blackberry fan. No matter what you're looking for, however, chances are at least one OS has what you need.
Do you have a favorite OS? What makes it your perfect fit?
Image courtesy of Flickr
[cf]skyword_tracking_tag[/cf]
Comments
comments