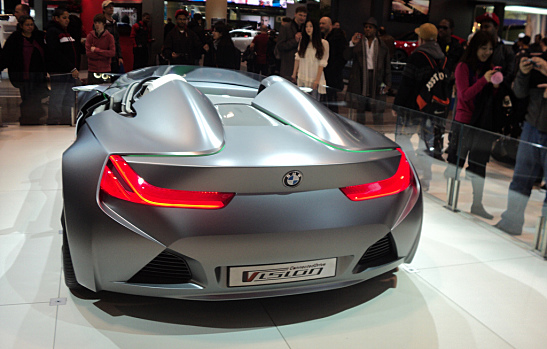 Connected cars are already changing the way we experience mobile communication, and they will continue to do so in the future. Picture this: You sit back and relax as your car drives itself while you're stuck on a congested highway, your car warns you of an oncoming collision before it even happens, or you get out of your car and allow it to drive off and park on its own.
Some of these features are available on certain car models today, or will become available in the very near future. The Economist reports that by 2020, a quarter of all cars on the road will be connected online—possibly with these capabilities, and likely many more. Welcome to the age of the connected car. Let's take a look at some of the models available for purchase today.
Mercedes-Benz Intelligent Drive
Equipped with advanced safety features that use a sensor system to detect dangers on the road, certain models allow for driving assistance (controlling the brakes, acceleration, and steering) at very low speeds, like when you're in a traffic jam. The car can even detect potholes and adjust the suspension accordingly, making for a smoother ride.
Audi connect®
According to The Economist, Audi is working on a system that will allow you to exit the car and use your smartphone to make it park itself. In the meantime, you can settle for Audi Connect cars, which include the abilities to access real-time data on parking locations through voice-activated search and to turn your car into a mobile Wi-Fi hotspot.
Hyundai Assurance Blue Link Connected Care
Standard on all Blue Link–equipped Hyundai models purchased after May 2013, Connected Care has collision notification, emergency assistance, and maintenance alerts, among other high-tech features.
BMW ConnectedDrive
With BMW, you can control your car from your phone, including starting it remotely or locking and unlocking the doors. You also get intelligent parking assistance with sensors that not only help you park your car safely, but help you find a spot in the lot, too. BMW is working on making driving more automated with BMW ActiveAssist.
NissanConnect
Certain Nissan models come with NissanConnect, which basically turns your dashboard into a smartphone. You can connect with social networks, music-streaming applications, and weather and traffic information, all without using your hands.
The current trend is for higher-end models to get the connected-car treatment, but availability of technologically advanced connected cars is only increasing. Are you going to keep these functionalities in mind when picking out your next car? Or do you prefer to leave the driving to the driver?
Image courtesy of Wikimedia Commons
[cf]skyword_tracking_tag[/cf]
Comments
comments