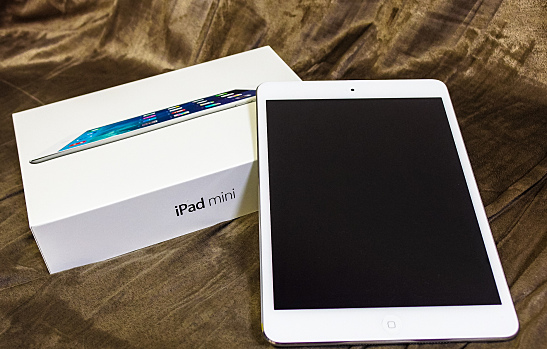 The Samsung Galaxy Tab S 8.4 is the iPad mini 3's biggest rival, Gizmag reports. When considering the iPad mini 3 versus Samsung Galaxy Tab S, how do the two differ?
For users looking to purchase a small-screen tablet that fits their lifestyle and work habits, here's a breakdown of each device's physical features and capabilities.
Design and Build
Like the iPad mini 2 that preceded it, the mini 3 comes with an aluminum build on the back to ensure the device remains undamaged if dropped. The Galaxy Tab is made of a plastic build (similar to the Galaxy S5), though the back does have the dot-effect for better grip.
In terms of size, the Galaxy Tab offers a slightly bigger screen, at 8.4 inches, compared to the iPad mini's 7.9-inch display. This makes the Galaxy Tab seven percent taller. In addition, it is 12 percent thinner and 11 percent lighter than the mini.
The mini 3 has three storage size options: 16 GB, 64 GB, and 128 GB. The Galaxy Tab has only 16 GB and 32 GB options, but does include a microSD card slot, something the mini lacks.
The Galaxy's camera is a slightly higher resolution, with an 8 megapixel rear-facing camera and a 2.1 megapixel front-facing camera. The mini has a 5 megapixel rear-facing camera with a front camera of 1.2 megapixels.
There is a significant RAM capacity difference among the two, with the Galaxy Tab packing up to 3 GB of RAM compared to the mini's 1 GB, which should affect speed and performance.
Software and Usage
The iPad mini 3 versus Samsung Galaxy Tab S comparison would be incomplete without looking at the software powering these two powerful tablets. The mini runs iOS 8.1, which includes Touch ID integration and allows the use of third-party keyboards. The Samsung Galaxy Tab S runs the much older Android KitKat 4.4 and comes with revamped apps such as Hangouts, e-mail, and the Android Device Manager.
Both slates offer call-forwarding features that allow you to receive calls from the phone. The iPad comes with a fingerprint sensor for extra security, while the Galaxy requires a swipe from a specific angle to unlock it.
Conclusion
With both of these devices debuting at $400, the comparison really comes down to what the user wants out of a small-screen device. For Apple enthusiasts, the Touch ID and synchronization features may be reason enough, while Samsung enthusiasts may opt for the Tab with its bigger RAM, better camera and screen resolution, and the Android ecosystem.
Which of the two devices do you see yourself purchasing?
Image courtesy of Flickr
[cf]skyword_tracking_tag[/cf]
Comments
comments