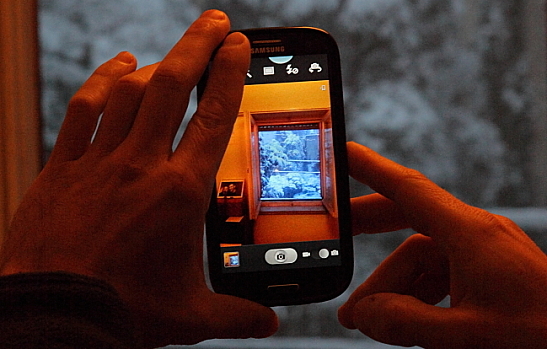 Like taking pictures on your mobile device? You're not alone. According to Photofocus, camera phones are outselling traditional cameras 10:1, and the gap is only getting wider. It makes sense—if you have access to a smartphone, why spend the money on a secondary camera, digital or otherwise? As photophiles know, however, there's a big difference between "good enough" and "great," so who really has the best smartphone camera?
1. Galaxy S5
The Samsung Galaxy S5 comes with a 16 megapixel camera and 0.3 second autofocus time. If you want something a bit more rugged, consider the S5 Active or Sport editions, which include shock-resistant and waterproof cases. Both keep clicking underwater at one meter for up to 30 minutes, and the Active can take the punishment of 4-foot drops at least 26 times before failing. According to a recent Gizmodo review, the S5's high dynamic range (HDR) feature was the best of any smartphone camera tested, and lets you preview an HDR image before you snap the picture. What's more, the camera includes a number of user-friendly features such as Shot and More mode, which lets you take photos and then adjust them later, to remove the faces of unexpected photobombers, for example. Selective Focus lets you change the focus between foreground and background in your snaps.
2. Moto X
The newest Moto X is a significant step up from its previous iteration. A recent ZDNet review gave the smartphone a 9.5/10 and had good things to say about the camera, which has been upgraded to 13 megapixels. When it comes to fine detail, the Moto X isn't the top of the heap but comes in at a very close second, often on par or better than the S5. Autofocus is right in the middle of the pack, hovering around 1.5 seconds. It's also worth noting that the smartphone camera supports gesture and voice control — a flick of the wrist activates the rear-facing lens, while saying "take a selfie" starts a countdown on the front-facing camera.
3. N3
This one comes out of left field from Chinese device manufacturer Oppo. According to News.com.au, the flagship device includes a 16 megapixel rotating camera that Oppo claims is the best on any smartphone currently in production. In addition to great selfies, the rotating camera takes some of the best panoramic photos possible. Security is also a priority for Oppo — the rear fingerprint sensor lets you encrypt photos so only you can view them in the camera roll.
4. Lumia 1020
If the award for "best smartphone camera" was given on the basis of resolution alone, then the Lumia 1020 would win hands down, with a 38 megapixel sensor and native RAW file format. In Gizmodo's comparison of leading smartphone cameras, the Lumia easily came out on top for resolution and low-light photos, and was a runner up for best flash. While other cameras struggled to grab fine detail in low light, the Lumia had no problem generating a clear, crisp image.
5. iPhone 6
When it comes to color tone, the iPhone 6 won easily, and it was called the "best camera overall" by Tom's Hardware. Its best feature? Super fast autofocus, which lets you easily snap pictures without long wait times. Local tone mapping, which significantly reduces overexposure from bright, sunlight shots, is also a highlight. While the camera itself is only 8 megapixels, third-party apps enable full manual control of all camera functions. It's also worth mentioning the Optical Image Stabilization, a feature found only in the iPhone 6 Plus. This stabilization technique allows you to take clear pictures even while rapidly moving the camera.
So which is the best smartphone camera on the market? The answer depends on your priorities. Want sheer power? Go for a Lumia. Looking for great features? A Samsung S5 may be your best bet. After the best camera overall? The iPhone 6 (or 6 Plus) is the way to go. All five listed are solid contenders for the top spot.
What's your favorite smartphone camera?
Image courtesy of Wikimedia Commons
[cf]skyword_tracking_tag[/cf]
Comments
comments