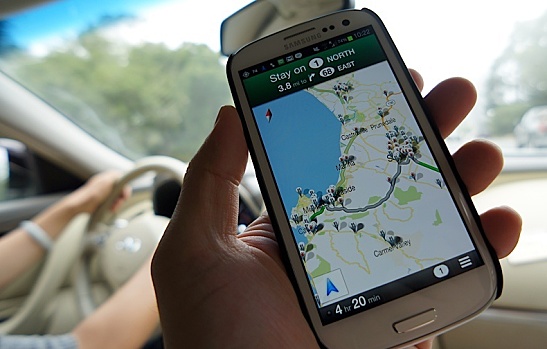 There's definitely a time and place for basic navigation apps, but some drivers also need to know where they've been just as much as where they're going. The new generation of full-featured navigation apps can track your mileage and help you skirt bad traffic, all within one interface. The best navigation app might change the way you think about driving or make you realize what your commute has been missing.
Waze (Free, Android, iOS, and Windows)
Best for: Social Fans
Can't stand to go offline for even a minute? Waze is like the Facebook of the freeway, allowing drivers and passengers to connect safely to crowdsource traffic information. Waze, a user favorite for years, provides turn-by-turn navigation cues and shows you the location of other Waze drivers, potential speed traps, accidents, and traffic snares along the way. Obviously, the social features should not be used while driving; passengers will love the interaction options.
Scout (Free, Android, iOS, and Windows)
Best for: Hardcore Commuters
Stuck doing the daily grind day in and day out? Use an app like Scout to make your long commute a little less painful. Loaded with features like a trip time estimator, traffic alerts, and even on-route restaurants and an event calendar, you can avoid traffic and maybe even make a coffee pit stop when you have the time. Scout even helps you find the cheapest parking so you're not stuck spending your precious pay feeding the meter.
CoPilot (Free, Android, iOS, and Windows)
Best for: Penny Pinchers
If your main concern is saving money, an app like CoPilot might be helpful. Not only does the app show you three different route options, but you can see the cost of driving that path based on gas usage, idling time, and traffic stops—ideal if you're on a budget. Another cool feature is the ability to download and save maps for offline viewing, which uses up less of your phone data.
Trapster (Free, Android, iOS, and Windows)
Best for: Speed Demons
While Trapster is designed to help drivers avoid police speed traps, it's other features are worth the download. It gathers information from current drivers and generates a route map with potential issues like debris on the road, traffic, and accidents clearly marked so you can slow down and drive more carefully, or plan a route that skirts accidents and other slow-downs completely.
RoadTrip ($4.99, iOS)
Best for: Business Travelers
If you travel for work, RoadTrip might the best navigation app for you. With RoadTrip, you're able to effectively track your trip miles, gas costs, and other variables so you may be properly reimbursed for your mileage. When you're done, you can export your numbers to a spreadsheet for the accounting department or your own records.
Driving doesn't have to be a total drag, especially if you know how to hack traffic and keep on top of your gas mileage. By responsibly using full-featured apps while driving, you can save both time and money.
Do you have another navigation app you rely on?
Image courtesy of Flickr
[cf]skyword_tracking_tag[/cf]
Comments
comments