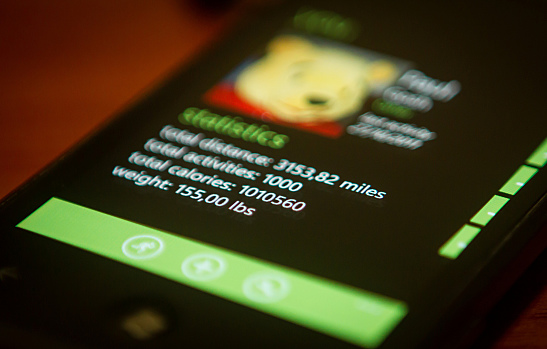 According to Business Insider, apps geared toward helping users improve their health are all the rage these days. Whether it's tracking running mileage or caloric intake, here are seven of the best health and fitness apps to help every user achieve his or her fitness goals:
1. Fitbit (Free, Android, iOS, and Windows)

Designed to work with a variety of wearables and smart scales, Fitbit can track daily goals and monitor progress. It gives users a one-stop spot to log food and exercise and view calories in versus calories out, measure the number of steps they've taken per day (and see the distance in miles), and track the quality and length of sleep, among other metrics.
2. FitStar (Free, iOS)

FitStar works as a personal workout assistant. It creates customized exercise routines—tailored to the user's age, weight, and other statistics—and adjusts them based on performance. The app includes easy-to-follow workouts by NFL legend Tony Gonzalez, who acts as a digital personal trainer. According to ReadWrite, FitStar "looks like a fitness DVD . . . but without the boredom factor that comes from repeating the same workouts."
3. Lose It! (Free, iOS and Android)
Lose It! offers a comprehensive weight-loss program. Users are required to input their weight, height, and the number of weeks they want to work toward their goal. After that, the app sets a weekly goal showing exactly how long the weight-loss project will take.
This tool seamlessly connects people, devices, and food information, all in one location. Both the iOS and Android versions come with detailed calorie information, a calorie calculator, the ability to track daily activity and goals through graphs, and a list of friends to keep you motivated.
4. Map My Fitness (Free, iOS and Android)
Map My Fitness can track a range of activities, including running and cycling. It also measures calories, distance, and pace using a calorie counter and GPS tracking. The app's interface includes workout details, a map of routes taken, and an up-to-date profile showing the user's activities.
5. Moves (Free, iOS and Android)
The Moves app recognizes the places a user visits, automatically tracks everyday activities, and shows each day as a simple story line. Using a map, the app shows the path the user took throughout the day, how long each activity lasted, and other important tracking metrics.
6. Fooducate (Free, iOS and Android)
This app analyzes information about food products. Just scan a product bar code and Fooducate will display its nutrition grade. The app can reveal hidden ingredients, such as excessive sugar and controversial food colorings, and recommend alternatives when necessary to help users make an informed decision. It also includes a tracker to monitor diet based on set goals.
7. Calorie Counter (Free, iOS and Android)
With a database of over four million foods, Calorie Counter is one of the best health and fitness apps. The app can save your favorite foods, entire meals, and more. It also includes over 350 exercises and the ability to track cardio and strength training and create unlimited customized exercises.
Which other health and fitness apps have you found effective?
Image courtesy of Flickr
[cf]skyword_tracking_tag[/cf]
Comments
comments