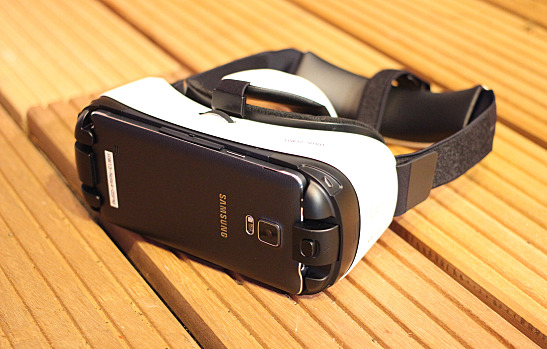 The Samsung Gear VR "Innovator Edition" headset, a highly anticipated virtual reality device, is now available at AT&T and via the Samsung online store, according to Forbes. The device will retail for $200.
The Galaxy in Gear
The Gear VR requires a companion device to enjoy full functionality, and that device is Samsung's Galaxy Note 4. The phablet's 5.7-inch 1440p Super AMOLED display is used as the display for the VR headset unit, through which users can view movies, play games, and browse custom apps. The headset was designed to work specifically and solely with the Note 4.
The headset offers users a 360 degree virtual video experience, and it boasts gyrometer, geomagnetic, accelerator, and proximity sensors. To personalize the user experience, Forbes reports there is "focal adjustment to accommodate users that are nearsighted or farsighted. To control the headset, the Gear VR has a touch pad for navigation, a volume key, and a dedicated back button."
Exclusive Content
While prepping for the big launch, Samsung worked with key companies to position the Gear VR as a tool for viewing exclusive content. Back in November, TechnoBuffalo reported, "The Gear VR will ship with some exclusive content thanks to early partnerships with Marvel, DreamWorks, and Vevo, and there's even a virtual reality version of Temple Run." Eager early adopters of the Gear VR may already have plenty to do with their new device.
Big Name Backing
The Samsung Gear VR was created in collaboration with Oculus, which was recently acquired by Facebook. The Gear VR will have access to features and functions similar to the Oculus VR, including Oculus Home, Oculus Store, Oculus Cinema, and Oculus 360 Video and Photos.
Will the Samsung Gear VR be on your shopping list this holiday season?
Image courtesy of Flickr
[cf]skyword_tracking_tag[/cf]
Comments
comments