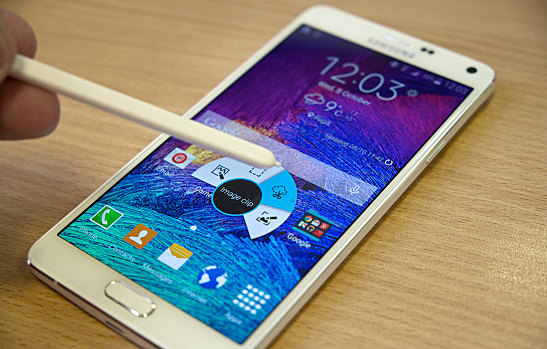 Interested in a 64-bit Galaxy Note 4 from Samsung? According to SamMobile, a new variant of Samsung's flagship phablet was tested just last week. This newcomer is being prepped exclusively for Korean carriers and is powered by a Qualcomm Snapdragon 810, which is the company's new 64-bit system on a chip (SoC).
This upcoming 64-bit variant will hold the same design and form factor of its predecessors, and it will support all the known features and functions that have become synonymous with the Galaxy Note 4. "The only difference between the standard and this new special variant of the Note 4 is the system on chip; visually, they both are identical," reports SamMobile.
The Magic Number
This marks the third entry for the impressive Galaxy Note 4. Samsung has already released its newest phablet with the Snapdragon 805 SoC and the eight-core Exynos 7 Octa. But these are 32-bit processors—neither variant can handle 64-bit applications, which means 64-bit mode of Android 5.0 Lollipop is inaccessible as well. That's where the new Snapdragon 810 comes into play: it is the world's first 64-bit eight-core mobile processor.
Speed and Power
This chip is not only powerful, but Qualcomm reports that the new Snapdragon 810 64-bit Galaxy Note 4 variant will also be able to support LTE Category 9, which allows for network download speeds of 450 Mbps. On the graphics processing side, the new Snapdragon 810 is equipped with an Adreno 430 GPU clocked at 650 MHz. Other specifications are identical to the existing Galaxy Note 4 devices, and it will ship with Android 5.0 Lollipop baked in.
The Snapdragon 810-powered, 64-bit Galaxy Note 4 will ship exclusively to Korea in the spring of 2015. Stateside customers looking to nab a 64-bit Galaxy Note 4 will be have to import an unlocked version from Korea, or hope for the exclusivity to be lifted at a later date.
Are you going to try getting your hands on the newest variant of the Note 4?
Image courtesy of Flickr
[cf]skyword_tracking_tag[/cf]
Comments
comments