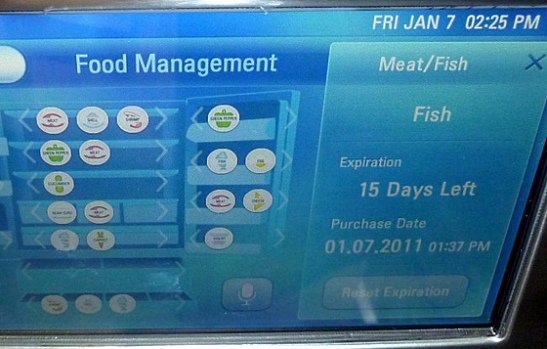 Almost 5 billion devices will connect to the Internet of Things (IoT) in 2015, according to research firm Gartner. Smart appliances are quickly gaining popularity in the Web-enabled ecosystem, where cars, watches, and even eye glasses now interact with users and other devices via the Internet.
When we think of smart appliances, one of the last things that comes to mind is the refrigerator. However, this very important household appliance is indeed experiencing innovation. Here are some exciting trends you can expect to see in refrigerators and other kitchen devices starting in 2015.
Wi-Fi Enabled Refrigerator
A significant leap from previous refrigerator models, the Wi-Fi Refrigerator from Samsung debuted at CES 2014, and comes with a smart screen to which content on other television sets in the home can transfer. Users can also make and receive phone calls directly from the fridge.
This smart appliance is expected to launch in Canada at the end of 2014, with expanded release in other regions of the world expected in 2015.
Talk to Your Fridge
This year, LG showcased its HomeChat technology, which allows users to virtually talk to their home appliances about things that are particularly helpful when they're out of the house. In partnership with Japanese mobile message platform Line, LG is preparing for 2015 by integrating HomeChat with several other LG smart appliances, including refrigerators, washers, dryers, robotic vacuum cleaners, and ovens. The service works by sending a text message to the home appliance, which then delivers a reply according to the content of the message sent. According to remarks by LG in Gizmag, "you will literally be able to ask your washer 'What're you doing?' or your fridge 'Do we have beer?' and they will respond just as a person would."
Sync Home Appliances
According to The Verge, Whirlpool is working on its next-gen connected kitchen suite. The concept would allow your fridge, oven, stove, dishwasher, and washing machine to sync and communicate with one another while being controlled from a central app. The company will design the refrigerator to keep an inventory of all its content, then suggest and program recipes into a smart oven. The platform may also determine the type of stain on a dress and instruct the washer to adjust its system in a way that effectively removes the stain.
Which of these innovations are you most excited about?
Image courtesy of Flickr
[cf]skyword_tracking_tag[/cf]
Comments
comments