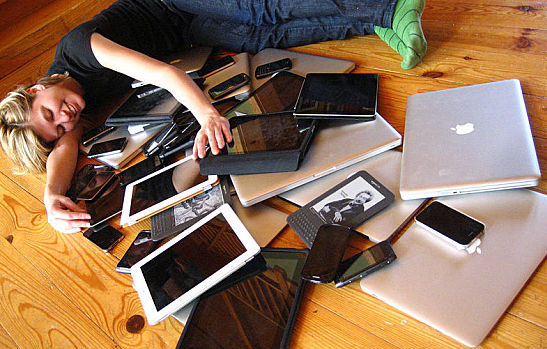 Do you dream of unleashing the full potential of your new tech devices, but don't know where to start? Grabbing the hottest new phone or tablet is only half the battle. Here are four tips to help get the most from your new smartphone or tablet.
Check Out Lollipop's Layers
If you have an Android phone or tablet, it's worth knowing what's under the hood in 5.0 Lollipop, the company's newest operating system (OS) version. First is something you don't need to do anything about: Android RunTime (ART). This new environment replaces Dalvik VM and promises both better app performance and responsiveness. Gizmag testing shows that so far it lives up to the hype.
You can also get more from Lollipop by using the new "Pinning" feature, which is great if you're a parent or have friends that borrow your stuff and like to mess with your settings. Pinning allows you to lock the phone or tablet to a single app, freezing out all other functions; combine it with a passcode and your settings are always safe.
Up Your Game with iOS 8
Big fan of Apple? Then making the most of your new tech devices means getting everything you can from iOS 8. Start with one of the more obvious tweaks, like taking Siri to hands-free. Go to General > Settings > Siri, and turn on Hey Siri. Now you can just say the words and have Siri respond—so long as your device is plugged in, which makes it handy for long car trips.
If you're running iOS8, you can scan credit cards in Safari, so you can skip the tedious steps of entering card numbers and expiration dates. And if you're sick of the default keyboard, Apple now supports custom options like Swype and SwiftKey, along with other apps that add new colors or small personal touches.
Do More Than Scratch the Surface
Are you a Microsoft guy or gal? Then make sure you're getting the most from your Surface Pro 3. WinBeta has a few tricks, including one to increase your battery life: Head to Control Panel, then Power Options, and then pick Change Plan. This lets you reduce the brightness of the screen, which is a battery killer at the default setting. Next, increase the number of apps you can see on the Start screen by heading to the Charms bar, then Settings, then Tiles, and choose "Show more tiles on the Start screen."
The Surface Pen also does more than just write; you can double click the top button to take a screenshot. It's also worth heading over to Settings, Change PC Settings, and then OneDrive and enabling "Save documents to OneDrive" if you're a regular Surface Pro 3 user. This way, everything gets stored in the cloud.
Unbury Your BlackBerry
If BlackBerry is more your style, there's a lot to love in version 10.3 of the OS. For starters, you can now instantly access Quick Settings by swiping down from the top of the screen, giving you a shortcut to the Settings menu and some hardware toggles. You can also expand the device's storage with large-capacity microSD cards up to 128 GB for big files or presentations. If you need more connection with your device in a desktop environment, then go ahead and install BlackBerry Blend, which lets you respond to any work or personal e-mail, BBM, or text message that comes to your device.
It's also possible to enable gestures, which BlackBerry calls "Advanced Interaction." Your smartphone can be configured to wake up when lifted or enter safe or silent modes when flipped. E-mail triage lets you delete or archive multiple messages and download multiple e-mail attachments at the same time.
These tips are just a small sample of what's available. How do you make the most of your new tech device?
Image courtesy of Wikimedia Commons
[cf]skyword_tracking_tag[/cf]
Comments
comments