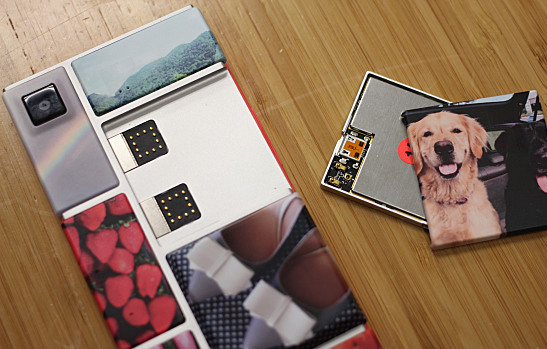 A test pilot program for Google's Project Ara smartphone will commence in the second half of 2015 in Puerto Rico, the company announced. Google is putting finishing touches on its current Ara prototype—Spiral 2—and moving on to Spiral 3, The Verge reports. Once Spiral 3 is up and running, the pilot testing will begin.
The Pilot Program
"When Project Ara hits Puerto Rico, users should be able to customize their devices using the Ara Marketplace and Ara Configurator apps," The Verge reports. The Ara Marketplace is where users can find and purchase the modules (camera, battery, storage, etc.) that attach to the phone. To determine which modules to get, users can put the Ara Configurator app to the test. According to The Verge, this app uses Android's new Material Design to assist users in customizing and ordering their Ara handset. They can navigate through the app to select the modules, design the phone's exterior, and more.
Google will run its test pilot from food truck-style stores where users can check out the device before committing to it. The company also hopes to have 20–30 modules available for purchase. The pilot program in Puerto Rico is intended to help the company learn what it's doing well and what it's not, as well as see how it can shift to meet consumer needs before any official product launch.
Project Ara
Since it was announced in 2013, the Ara smartphone has undergone a number of iterations. The Verge reports that Google hopes the Spiral 3 variation will be able to support a 4G LTE network and hold its own against other phones on the marketplace.
The Ara smartphone will allow users to swap out different parts of the phone, such as the camera and USB components, and customize it to their preferences. According to Engadget, it will be possible to change the location of different device components—such as where the USB port is located—between the front and back of the phone. Users will also be able to swap a dying battery with a new one without turning the phone off. In the future, Google hopes that users will be able to print modules via 3-D printing technology.
A lot needs to happen between now and a full-fledged consumer launch, but a pilot test in Puerto Rico is a good sign for Project Ara's future.
What do you think of Project Ara? Share with us below.
Image courtesy of Flickr
[cf]skyword_tracking_tag[/cf]
Comments
comments