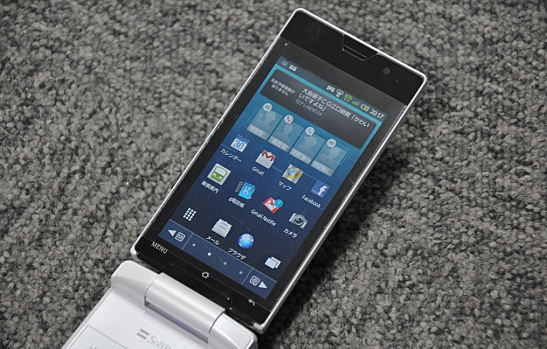 Sharp recently introduced two new smartphones: the Sharp AQUOS mini and the AQUOS K, with the latter bringing back the flip phone design. The company's name may not be synonymous with premium smartphones, but Sharp proved that it can innovate in style and elegance with last year's Sharp AQUOS Crystal. Now the company is bringing two newcomers to the market.
AQUOS Mini
When comparing the two, TechnoBuffalo reports, "The AQUOS mini isn't quite as compact as the Crystal, but the company's still managed to offer some impressively thin bezels for the new device." The mini is outfitted with a 4.5-inch display capable of 1080p resolution and a Qualcomm Snapdragon 801 processor. The mini will not be ready for Android Lollipop at launch and will instead ship with the KitKat 4.4 version of the operating system. The device features a 13 MP rear-facing camera and a 1.2 MP clicker on the front. The AQUOS mini is equipped with a 2120 mAh battery, which TechnoBuffalo reports should sustain a charge for two to three days. Sharp also outfitted the device with its IGZO water-resistant screen technology. The mini will be available in blue, white, pink and black.
AQUOS K
Sharp's other big announcement is the AQUOS K, a flip phone with specs that suggest it is targeting the lower end of the market. The new device has a 3.4-inch LCD display and is powered by a quad-core processor that clocks in at 1.2GHz. GSMArena reports that the phone will also have LTE capabilities and a touch-sensitive trackpad. It may be small, but Sharp was able to fit a single 13 MB rear-facing camera on the handset. The AQUOS K will also have a smaller 1410 mAh battery and come in color variants of black, white and red.
AQUOS hasn't announced pricing and availability details yet, but TechnoBuffalo suggests both phones may only be released in Japan.
What do you think of the new Sharp AQUOS handsets? Share with us below.
Image courtesy of Flickr
[cf]skyword_tracking_tag[/cf]
Comments
comments