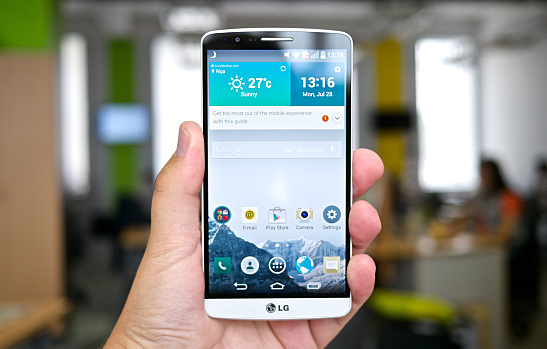 Although earlier reports indicated that the G4 would be unveiled at the Mobile World Congress (MWC) in March, Phone Arena reports that LG will hold off on releasing the G4 until later this spring so it can "spend more time perfecting the new phone." The LG G4 will succeed the much-acclaimed LG G3, which is arguably the company's best device to date.
To hold you over until the phone is officially unveiled, here are four of the most interesting rumors and speculations regarding the manfacturer's next flagship phone.
20.7 MP camera
If this first rumor holds true, then LG is aiming high. According to Techno Buffalo, a leaked report indicates, "LG's new camera module features an increased correction angle of 0.7 for stabilizing shaky video and snapping quick photos—up from 0.5 on the G3. Meanwhile, that 20.7 MP camera is a pretty big step up from last year's 13 MP shooter, which we actually thought did a pretty great job." They also note that Sony uses a similar lens on its flagship phones, which are regarded as some of the best.
Note 4/5-worthy Stylus Embedded
Several rumors suggest that LG could return with new stylus technology superior to that used in the LG G3. Phandroid caught wind of a "G Pen" trademark listing. This could be a standalone product or it could be included with the LG G4 in an attempt to compete against the Samsung Galaxy Note 4 and its S-Pen.
4K Resolution
With the LG G3, the company was one of the first to introduce a 1440p Quad HD resolution on a 5.5-inch phone display. AndroidPIT reports that resolution may be upped to a 4K display in the G4 to better compete with the upcoming Samsung Galaxy S6, which will reportedly also have a 4K display. AndroidPIT does note that such a high pixel density display doesn't appeal to all users, especially when constrained to a smartphone-sized screen.
Eye/Retina Scanner
It is likely that the LG will include the fingerprint scanner already found on many of its latest handsets, including the LG G3. AndroidPIT feels the company could also expand on that technology with an eye/retina scanner. If included, LG would be the first to incorporate retina recognition in a smartphone.
Which of these rumors do you hope prove true in the new LG G4?
Image courtesy of Flickr
[cf]skyword_tracking_tag[/cf]
Comments
comments